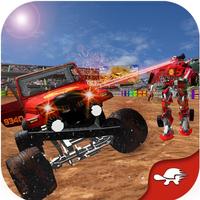 Monster Truck Robot Warrior
Free Get
Screenshots for iPhone
More Screenshots for iPad
Monster Truck Robot Warrior Description
You know how you watch some ultimate demolition derby game with epic monster truck and robots battling at city arena? How you feel like driving a monster truck over the roofs of other dragon monster trucks and crush them beneath your epic massive dragon tires? Well ladies and gents, look no further. The ultimate arena battle between the super monster trucks is about to begin where there will be epic giant robots as well. There is going to be much destruction, demolition, hits and crash in this epic battle arena. The waves on monster trucks keeps on coming and you have to fight and crash each on them with furious crash power and hit them hard turning them into pieces.

The enemy monster truck has super amazing power to transform into epic dragon robots having power to attack your truck in city arena battle. You need to battle out the monster trucks with furious drift speed, extreme hits and crash. You now have the ultimate chance to battle out the most incredible and massive transformer robots that shoot laser beams at your monster machine. Killing that steel alien super robot will require a lot of skills and a crazy brain that can think outside the box when there is a giant robot running right on your tail trying to kill your monster truck off because normal strategies won't cut it anymore, not against super ultimate robots who are skilled in battle and can take out trucks like yours with ease. Make sure your ultimate beast of a monster truck doesn't run out of health or you would fail the ultimate battle against the robots.

This is the ultimate and epic monster truck derby simulator that gives you goosebumps throughout the game. The powerful monster truck are hungry for the ultimate battle in the biggest truck arena with the biggest crowd whose thirst for a great fight never dies out. With the people are chanting you will actually feel like the ultimate gladiator who is in a battle against a transformer super robots in your monster truck but don't worry we have made the truck sturdier for you. Emerge out victorious against the super robots and the world will praise you for it. Avoid those deadly laser beams of death shooting out of the super transformer robots or you will be done and dusted. Be sure to not crack under pressure because there will be a lot of it!

Features:

+ Huge truck arena to battle it all out.
+ Ramps, barrels and crates to help you fight super robots and trucks.
+ Awesome and realistic game mechanics and control.
+ Cool graphics and ultimate music score.
+ Level as well as Survival Modes.
+ Huge monster truck modified to battle out the super robots.
+ Robots shooting laser beams.