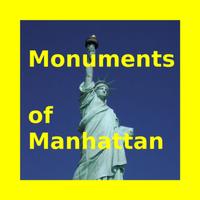 Monuments of Manhattan Videoguide
$11.99
Screenshots for iPhone
More Screenshots for iPad
Monuments of Manhattan Videoguide Description
Stop, look, watch, and discover. The streets and parks of Manhattan are filled with beautiful, historic monuments that will entertain, stimulate, and inspire you. No need to carry a book: each monument is brought to life with Art and History videos on your iPhone or iPad. And no worries about cell connections and spotty streaming: all the videos (three hours and nearly two gigabytes) are stored when you download the videoguide. Watch and enjoy. (Don't forget headphones: Manhattan is noisy.)

Among the 54 monuments in this volume are major figures in American history: Washington, Lincoln, Lafayette, Horace Greeley, and Gertrude Stein; intriguing figures of Daniel Butterfield, J. Marion Sims, Giovanni da Verrazzano and King Jagiello; as well as the icons of New York: Atlas, Prometheus, and the Firemen's Memorial. The monuments represent the work of some of America's best sculptors: Augustus Saint Gaudens' Farragut and Sherman, Daniel Chester French's Four Continents, and Anna Hyatt Huntington's José Martí and Joan of Arc.

The monuments may be ordered, at the touch of a button, North to South as though on a map of Manhattan (each has its own local map and transit directions) or Near to Far, with the one next to you, or close, at the top of your screen. Each monument comes with two high-quality videos, one to get close to the Art (and artists and models and inspirations) and one bringing you into the History of the figures, ideas, and the monument itself. You see furious General Sherman court-martialing a civilian journalist, and an exasperated Saint Gaudens proposing a hook-and-spring device for improving his assistants' artistic acuity as they help model Sherman. You discover how Lincoln dealt with a vociferous Confederate politician from Ohio, and why the Lincoln in Union Square doesn't rank as a top-notch Lincoln portrait. The videos draw you into experience with paintings, maps, newsreels, personal quotes, poems, excerpts from newspapers and periodicals (New York Times, Harper's Weekly), and writers ranging from Aeschylus, Washington Irving, and Frederic-Auguste Bartholdi to Mark Twain and Henryk Sienkiewicz.

The Monuments of Manhattan videoguide gives a fascinating look at figures and events that changed New York, the United States and the world. As an aesthetic guide, it provides a uniquely engaging experience of American life, worldview and sculpture. For residents and tourists, and historians and students who want to spend more time living, appreciating and thinking about the sculptures and New York history around them, this videoguide is the start of a great adventure of discovery.

Monuments of Manhattan Videoguide is expanded from the book "Outdoor Monuments of Manhattan" by Dianne Durante (New York University Press 2007.) Written and narrated by Dianne Durante; Videos and music by Richard Gleaves; Production and software by Adam Reed.

© Guides Who Know 2016.
Monuments of Manhattan Videoguide 0.0.1 Update