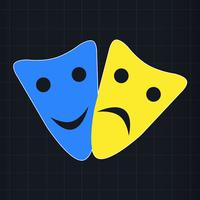 Mood Finger Detector
Free Get
Mood Finger Detector Description
Mood Scanner - Scan your thumb print to see how you are currently feeling!

It has a number of moods and feelings and it relies on scanning your thumb's fingerprint. It acts as a mood sensor similar to mood rings.

To start, place your thumb on the fingerprint image and wait until app finishes its analysis. Mood Scanner needs few seconds to scan your finger and analyze your result.

Mood detector is an entertaining application which uses your mobile phone and its touch screen to detect your mood.

This mood scanner can also be used as feeling scanner app because to some extent once feelings are co-related to present Mood or Mind State also.

This Mood scanner apps seems like using finger or thumb scanner to identify your current mood but this scanning app does not actually scan your finger print. It is just a Entertainment app.

- Great joke or prank app - Can fool anyone!
- Looks very realistic and convincing!
- Even includes progress bars for analyzing and processing!
- Simple, easy-to-use interface and design!
- Use it again and again! The accuracy of the mood detection might surprise you :)

Use Mood Scanner to test your friend's, family member's or someone else's feelings.
Compare their mood with your own and find out who is in a better or worse mood.

We ensure thoroughly tested & highly optimized Scanner app to ensure minimal resource (Battery & Memory) usage & alike user experience across range of devices.

Like our Finger print Mood scanner App ? Please rate our free mood scanner app and yes, do leave your suggestions which will help us bring better scanner apps for you.

This app is intended for entertainment purposes only and does not provide true mood scanning features functionality.
Mood Finger Detector 1.0 Update