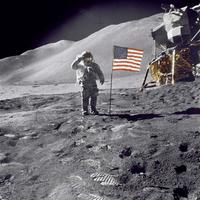 Moon Phases U.S.A.
Free Get
Moon Phases U.S.A. Description
Current live moon phases and historical moon phases dating back to 1977 direct from NOAA data sources.

Simple to use. NO SPAM Advertisements.

The most visible change in the appearance of the Moon is its monthly cycle of phases. Every 29.5 days, the Moon changes from a thin crescent low in the western sky in early evening, to a full disk that rises at sunset and is up all night, back to a thin crescent rising just before sunrise. The Moon's phases are caused by its orbit around the Earth. As the Moon circles us, different parts of it face the sun. When the side of the Moon facing the Earth is sunlit, we see a full Moon. When the sun is up on the far side of the Moon, we see a thin crescent, or nothing at all.