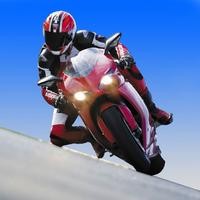 Moto Sports Bike Race : New free game-s
Not Available
Removed
from the App Store
Moto Sports Bike Race : New free game-s Description
Welcome to world of SPEED and race of world champions. SBG-2K16 is racing simulator that lets you play and feel the closest as you can actually riding the most powerful super bikes, and the game's diverse camera perspectives contribute to enhance realism. SBG-2K16 offers responsive controls, nice graphics, and a variety of tracks, all for.

Let's burn up the track in this free racing game.
Don't expect any other super bikes when you're playing and enjoying Sports Bike Championship (SBG 2K16). The bike model you start out with is pretty basic. As you progress, you'll get better, more powerful bikes from virtual purchasing shop. Select your monster bike from huge range of bikes.

To keep things interesting, SBG 2K16 offers various modes and options in super bike racing arena. There are two major modes, Racing Mode and Knockout Modes. There are many other options about game play, you can set difficulty of game by changing No. of opponents bikes, and by changing No. of laps. There are more than 5 closed loop next generation racing circuits.

Bike handling is superb, as for play ability, Sports Bike Championship is not especially difficult to control, as long as you get used to a somewhat strange UI combination. Easy to get into, and the controls can be managed by even the very young.

If you love racing games and are craving a bit of real action and thrill, Sports Bike Championship (SBG-2K16) should definitely be your next move.