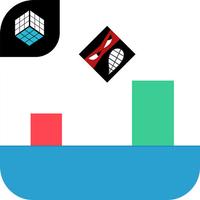 Mr Jump Ninja: Geometry Dash Game
Free Get
Mr Jump Ninja: Geometry Dash Game Description
Welcome to the world of Jump, the arcade gaming sensation, that is fast becoming a global phenomena. We challenge you to get the perfect score of 0!

If you choose to accept the challenge, your goal will be to guide your square through ten levels of obstacle filled, mayhem fun. You only have one skill to master and that is the Jump. Complete all ten levels and your score will be posted on the global Leaderboard. There's a catch, the lowest score wins! So getting too the end, is just the beginning.

Sounds simple? We warn you it's not!

This game is truly a challenge. Your skills and patience will be tested to the breaking point.

It's also a hell of a lot of fun, and is guaranteed to keeping you coming back for more.

Can you get the perfect score of 0?
Mr Jump Ninja: Geometry Dash Game 1.3 Update
Dear fans,
This update includes minor improvements and bug fixes.
Thank you for playing!
More