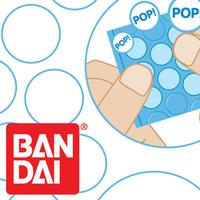 Mugen Pop Pop™
Not Available
Removed
from the App Store
Mugen Pop Pop™ Description
Mugen Pop Pop™ is a highly addictive handheld keychain device from Bandai America Inc. that stimulates the strangely satisfying experience of popping plastic bubble packaging. Originally launched in Japan as Mugen Puchi Puchi, which translates to "infinite bubble popping," Mugen Pop Pop has been rapidly gaining popularity in the U.S. It's perfect for everyone who loves to pop plastic bubble packaging or wants to pop their stress away. Users pop one of the eight authentic-feeling bubbles on this irresistible little keychain device. For added enjoyment, Mugen Pop Pop plays zany sounds at random – like a dog bark, door chime, horn honk and more!

Mugen Pop Pop™ iPhone App
With increased game play, the Mugen Pop Pop iPhone App allows you to play 3 modes; Normal, Repeat and Scramble.

Normal - Touch Mugen Pop Pop bubble to hear "Pop" sounds - Be on the lookout for surprise sound effects!

Repeat - Select difficulty level - Mugen Pop Pop will play a "Popping" sequence and then flash all buttons. It is then your turn to "Repeat" the popping sequence. A sound will be heard when you've completed it correctly and new sequence will start.

Scramble - Select difficulty level - Mugen Pop Pop will illuminate one or multiple "Pops", you must "Scramble" quickly to touch the Pop before Mugen Pop Pop scrambles you.
-------------------------------------
Become a Fan on Facebook:
www.facebook.com/pages/Mugen-Pop-Pop/34174867364

Follow us on Twitter:
twitter.com/BandaiAmerica
-------------------------------------
Check out these other Apps from Namco Networks America: PAC-MAN, PAC-MAN Lite, Ms. Pac-Man, Tamagotchi, Tamagotchi Lite, i Love Katamari, i Love Katamari Lite, Pole Position: Remix Lite, Galaga Remix & Alpine Racer.