Apps
»
Multi Trend Pro IEX ed.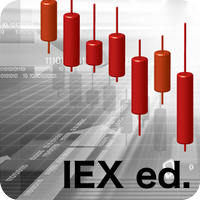 Multi Trend Pro IEX ed.
$29.99
Multi Trend Pro IEX ed. Description
The power of original Multi Trend Pro bestseller is doubled by pro data feeds directly from AMEX,BATS,NASDAQ,NMFQS,NYSE,NYSE ARCA,NYSE MKT,OTCBB,OTCMKTS,PINK,SHE,SHG,Cryptocurrencies.
MultiTrendPro IEX ed. gives you the real, underlying trends of all the stocks showing in IEX. Save stock symbols in groups, adjust trend dates, get buy and sell signals using different methods, compare with other indicators and even predict future using Fourier extrapolation! Everything you need to keep an eye on your portfolio is here. Click "...More" to learn why you should download this App today!

Fantastic App
"...this app gives me "buy" and "sell" signals that make it so EASY... I'm not a day-trader, I just want to know when to be in the market and when to bail before the hammer comes down! If you follow the buy and sell signals, you will get all of the gains when a stock or mutual fund goes up and none of the losses when it goes down. This app is easy-to-read, easy-to-understand and it will keep you from holding on to a fund in those ugly downturns. Buy this app!"
- Porter

«First positive trend direction program I have seen nicely designed.»
- Dieter

Regardless of whether you're a professional trader or not, you need to watch the market and make your own decisions about your portfolio. You have a goal and a target and you plan to handle the buying and selling of stocks yourself.
Thanks to MultiTrendPro IEX ed, you can keep an eye on those important trends that mean the difference between profit and loss. If a stock, index, equity, etc. is listed on IEX you can quickly and easily see its intraday and historical charts. Full list of the tickers available there: https://apimedia.tiingo.com/docs/tiingo/daily/supported_tickers.zip
There is absolutely no lag when compared with moving average trends, and the app's modified Gaussian least squares fit removes random fluctuations to provide the real picture of how a stock is performing. Other trending is based on Kalman filtering and minimises repainting. And even you can look to the future with prediction based on Fourier extrapolation.
When you download MultiTrendPro IEX ed, you're putting an innovative trending tool on your Mac. You can organize your stock symbols into groups and adjust trend dates, too. Scan possibility allows you to cast a glance all stocks' movements in the group.
The app's data comes from pro IEX source so any symbol listed there is accessible for trending in MultiTrendPro IEX ed. Every timeframe selected, you get up-to-date data in intraday mode. You'll always have a pulse on current trends.
If you're the cautious type, or simply want to kick the Multi Trend Pro tires before purchasing, simply go ahead and download original version for free! Multi Trend Pro is available there:
https://itunes.apple.com/us/app/multi-trend-pro/id1073531206
If you will like it you can pay for it after 30 days trial period or buy IEX ed.
Have a look at some of the features you get in MultiTrendPro IEX ed:
* Puts an innovative trending tool in your Mac
* Uses Chebyshev polynomials or Kalman filtering to create trend lines against pro IEX source
* Get any intraday time frame stock charts from 1 minute to 12 hours; historical time frames are the same
* Noise filters remove random fluctuations to provide the real trends
* Complete absence of lag when compared with moving average trends
* Repaint minimisation with Kalman filtering
* prediction based on Fourier extrapolation
* Includes buy and sell signals
* Compare trends with classical MA and Bollinger Bands, Parabolic SAR and MACD, RSI, Chaikin, Stochastic and more;
* Save stock symbols in a portfolio by groups
* Ability to adjust trend dates
* Stocks and data sourced from pro IEX data source

So are you as informed about your stocks as you should be? Are you buying and selling at the best times? Find out for sure by downloading MultiTrendPro IEX ed. now. Don't lose another day of gains.

Warning: volume info is currently unavailable from IEX
Multi Trend Pro IEX ed. 1.3 Update
FXCM ForEx datafeeds added.
P.S. Check our brand new ChebTrendPro IEX ed. app. It is fully functional cTrader API based iPad/iPhone ForEx trading tool.
More