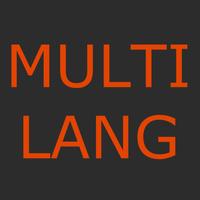 Multilingual Word Unscrambler
Free Get
Multilingual Word Unscrambler Description
Find all possible English or German words formed by letters. Use this tool in word games: quizzes, Word with Friends, Scrabble, Crosswords, ...

* Large embedded database: more than 233 000 words for English and more than 239 000 words for German language, accessible without internet connection.

* Very fast unscrambling.

* Wildcard character is "?": ho?e -> hoMe, hoLe, hoPe, ...

* Meaning of words: 3 external dictionary for TWL06 and English language (dictionary.com, merriam-webster.com, en.wiktionary.org) and 3 for German language (de.thefreedictionary.com, duden.de, de.wictionary.org).

* Works for words up to :
- 31 letters for English (for "dichlorodiphenyltrichloroethane")
- 34 letters for German language (for "Donaudampfschifffahrtsgesellschaft").
- 15 letters for TOWL06 (for "absorbabilities").

* Friendly user interface.

* Calculate game points for the words (word score)

SCRABBLE is a registered trademark of Hasbro Inc.
Multilingual Word Unscrambler 1.3 Update
* Calculate game points for the words (word score)
Love the application? Rate us!
Have a question? Contact Us! We'd Love To Hear From You: http://www.mlwu.lvbsx.com/contact.html
More