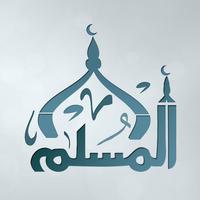 Muslim - المسلم
Free Get
Muslim - المسلم Description
Muslim app has been developed to benefit all Muslims around the world, an easy app to use which contains the following features:

- Dua'a and Zikr, the user will be able to share text on social network.

- Qibla Direction.

- Prayer Times.

- Electronic Masbaha, the user can share the number of tasbeeha on social network.

- 40 nawawi , these 40 hadith present main essential and fundamental concepts of islam that every muslim must read and know.


تم تطوير تطبيق "مسلم" لينتفع به المسلمون كافة حول العالم ، و يحتوي هذا التطبيق على الميزات التالية:

- الأدعية و الأذكار ، مع امكانية المشاركة على مواقع التواصل الجتماعي.
- معرفة اتجاه القبلة.
- أوقات الصلاة.
- المسبحة الالكترونية ، مع امكانية مشاركة عدد التسبيحات التي قام بها المستخدم.
- الاربعون النووية ، الأربعون في مباني الإسلام وقواعد الأحكام هو متن اشتمل على اثنين و اربعين حديثا.
Muslim - المسلم 1.0 Update
This update is signed with Apple's latest signing certificate. No new features are included.
More