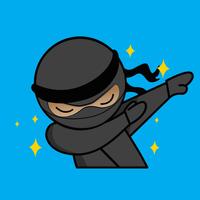 My Ninja
$0.99
Screenshots for iPhone
More Screenshots for iPad
My Ninja Description
Showcase your inner ninja! My Ninja stickers are what your conversations have been missing. Express yourself in new ways with dynamic My Ninja stickers that be can placed anywhere in your chat. Scale, rotate, and layer stickers on top of stickers. Even place them on photos you send and receive. This pack includes OVER 100 ninja stickers featuring original artwork, with NEW FREE ninjas updated regularly.

Stickers Included:
~Dab Ninja
~Selfie Ninja
~Shocked Ninja
~Birthday Ninja
~Hot Tub Ninja
~Love Ninja
~Party Ninja
~Money Ninja
~Mad Ninja
~Many More!

Download now and start building your collection!

Show us some love!
www.emojininjas.com
IG: @emojininjas
FB: @emojininjas
Twitter: @emojininjas

*******

WHERE TO FIND THE STICKERS AFTER INSTALLING:

Step 1: Open a message with a friend and tap the ">" button to the left of the text box.

Step 2: Tap the app button that appears (it looks like an "A") and then tap the button that looks like four circles in the lower left of your screen to open the iMessage app drawer.

Step 3: Tap the My Ninja icon and start sending stickers!

QUICK TIPS
-To use a stickers within a conversation, simply tap to send or you can touch & hold to place them on top of chat bubbles, other stickers, or even photos.
-iPhone and iPad users (running iOS 10) and Apple Watch users (running watchOS 3) can receive stickers. On Apple Watch, you can send any of the stickers you recently sent from iPhone or iPad.