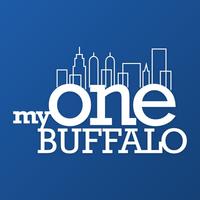 My One Buffalo
Not Available
Removed
from the App Store
My One Buffalo Description
INTRODUCTION
Launched in September 2016, My One Buffalo is a new way to customize your fan experience through your mobile phone or smart device. The goal of the program is to sync Buffalo's largest sports teams and improve the fan experience. The program includes a new status program, the ability to manage all of your tickets, and features that make attending games easier than ever. With newly completed upgrades to the Wi-fi in both the arena and stadium as well as a fully functional website, any fan with a smart device can participate. To register and get started, you only have to provide your full name, email address, and create a password. Once registered you'll be able to experience all three components that make up the next step in Buffalo sports fandom.

MY STATUS
After the success of Sabres Fan Advantage over the 2014-15 and 2015-16 Sabres seasons, the My One Buffalo Status Program pushes the concept even further while uniting Buffalo's sports teams. The program is defined by three key components. The first is that fans will now be placed into tiers with different benefits based on how often they interact with the teams. Interactions include purchasing season tickets, attending home or away games, watching Sabres broadcasts, attending team events, dining at (716) Food and Sport, and more. Examples of benefits include discounts at the Bills Store and Sabres Store as well as digital goods, surprise offers, and invites to special events. Second, all of these interactions are automated and no longer need fan actions to get credit for interacting. The stadium, arena, and HarborCenter all have iBeacons, so any fan that leaves their Bluetooth settings on will get credit for attendance. The Sabres have partnered with LISNR to leverage inaudible tone technology, so fans watching Sabres games only need to allow access to their microphone to get credit for watching. Any fans attending away games or events just need to leave Location Services on while using the app and they will receive credit for supporting the team. Third, there's more ways for more fans to participate in the program. By including the Bills, HarborCenter, the Bandits, select events at the arena and stadium, as well as events for fans outside Western New York, the status program truly encompasses everyone who considers themselves part of One Buffalo.

MY TICKETS
My One Buffalo now serves as a one-stop shop for all your ticketing needs for the Bills, Sabres, Bandits, and most HarborCenter events. With partnerships with Ticketmaster and Tickets.com, no venue is left untouched. Within the app, you can forward game tickets to friends, purchase tickets, manage your account settings, and pull up your tickets on your phone to enter the building.

MY GAMEDAY
Fans attending games at New Era Field and KeyBank Center will be able to use My One Buffalo for everything on game day. NITTEC will provide traffic updates and bridge wait times directly in the app. Once at the venue, users will be able to use interactive parking maps and virtually pin their car to make it easier to find after the game. My One Buffalo will feature a limited eWallet that allows fans to pay for merchandise right from their phone using a credit card or their Bills Bucks or Sabres Bucks cards. Each team has partnered with Experience, an award-winning provider of mobile fan experience technology, to give fans a chance to purchase seat upgrades, head onto the field after a game or go down to the VIP Ropeline. In addition to all these changes, fans will be able to enter using tickets on their mobile phone which will also give them access to select fast pass lanes at entry. The iBeacons throughout the building will not only serve to count attendance, but also send fans special offers and discounts customized to their interests and the game. With My One Buffalo, everything is in one convenient place.
My One Buffalo 3.9 Update
- Critical ticketing updates
- Many new improvements, features and bug fixes
More