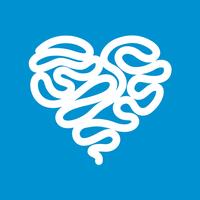 MyHealthyGut: Guided Nutrition
Free Get
Screenshots for iPhone
More Screenshots for iPad
MyHealthyGut: Guided Nutrition Description
MyHealthyGut is an evidence-based app that harnesses the power of digital technology to provide easy-to-access tools for users to take control of their digestive health. For newly diagnosed or undiagnosed celiacs or people struggling with a gluten intolerance, or wanting to live gluten free, MyHealthyGut will help you, along with your healthcare practitioner, determine the root causes and manage your digestive distress.

Developed in collaboration with leading gut health disease associations, University researchers and healthcare practitioners, MyHealthyGut's nutritional, diet and lifestyle programs are peer-reviewed and were validated in a randomized control trial (RCT).

MyHealthyGut includes:

DIETITIAN-IN-YOUR-POCKET
• Dedicated educational resources for Celiac, gluten-intolerance, and gluten free living.
• Alerts, tips and guidance from an in-app Health Coach.
• Top recommended pro-digestive and anti-inflammatory foods
• Searchable database of safe and unsafe foods to identify symptom triggers in your diet. (gluten free, contains gluten, cross-contaminated, FODMAPs)

DAILY JOURNALING & SYMPTOM TRACKING
• Advanced tracking for symptoms including: stress, fatigue, abdominal pain, bowel movements, and more..
• Log food, supplements and symptoms to identify sources of digestive distress.
• Generate a health report to share with your healthcare team.
• Provide information to help diagnose your condition.
• Follow through with our therapeutic programs and recommendations.
• Record your progress over time, and reach your gut goals!

THERAPEUTIC MEAL PLANS AND RECIPES
• Created by award-winning cookbook author and health coach, Terry Walters
• Gluten free, omnivore, and vegan alternatives.
• Create and share grocery lists.

INFORMATION AT YOUR FINGERTIPS
• FAQ Bot to answer questions in real-time – support when you need it.
• Personal inbox with the latest research, exclusive blog content, quick facts and daily tips.
• Push notifications of events, alerts, relevant offers.

SUBSCRIPTION PRICING AND TERMS
• 7-day Full Access Trial
• Living Gluten Free Therapeutic Package, auto-renewing monthly and yearly subscriptions
• Cancelled subscribers can still access general digestive health content.

THE TEAM

MyHealthyGut is the result of smart collaboration by two researchers at the University of Calgary, including a health psychology researcher with celiac disease; a registered dietitian in digestive health, and spearheaded by KORE Digital Health Therapeutics (owned by a Holistic Nutritionist), that provides people with online and mobile tools to effectively manage their health.

OUR SUPPORTERS

The first phase of the MyHealthyGut app research was supported and funded by the Canadian Celiac Association (Calgary, Vancouver and Kamloops chapters), The Calgary Foundation and Mitacs.

GET SUPPORT

If you would like additional information about the app please visit our website at www.myhealthygut.com.

Read our full Terms of Service and Privacy Policy http://www.myhealthygut.com/privacyterms/

TESTIMONIALS

"MyHealthyGut is extremely user friendly and will empower individuals to find a link between their diet and gastrointestinal symptoms. The app provides realistic tips for managing a strict, lifelong gluten-free diet and may certainly increase quality of life for individuals with these tools and information at their fingertips." –Lori Welstead, RD, THE UNIVERSITY OF CHICAGO CELIAC DISEASE CENTER
MyHealthyGut: Guided Nutrition 2.0.0 Update
The MyHealthyGut Team is thrilled to share the new and improved version of the MyHealthyGut app. We listened to your feedback, did our research, and the result is a completely revised, brand new app to help you manage your digestive health.
Reach your gut goals! Start on your path to digestive health with a free 7 day full access trial to MyHealthlyGut – a new app and a whole new experience!
We have a whole new look, new features, new content, and a new and upgraded user journey. Your download starts our dietitian-in-your-pocket Health Coach guiding you through your first steps with some general health questions, followed by you selecting your preferred Monthly or Yearly subscription.
Subscribe and meet Professor G, our interactive chatbot, who's there to answer your basic digestive health questions. You'll also get tips, encouragement, alerts and information to help you make diet and lifestyle changes to reach your gut goals. MyHealthyGut gives you a total package of evidence-based, scientifically validated tools to lead you to better digestive health and wellness.
Download and enjoy a free 7 day full access trial. Cancel anytime.
More