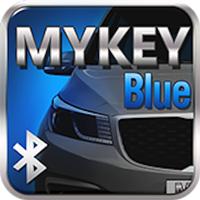 MYKEY Premium BT
Free Get
MYKEY Premium BT Description
Application for the HYUNDAI/ KIA Cars.
Top speed iPhone Application using Bluetooth communication for Vehicle gear System by iPhone Apps!!
The iPhone application which is to make remote engine start & gear the vehicle via Bluetooth communication to the vehicles, those are installed MYKEY Premium.
Capable to make remote engine start / check vehicle status up / Door unlock/ Door lock / Trunk open(for available models only) / Cease Auto door function / Low Battery voltage Alert / Auto Start / Shock Detection / Turbo Timer set / Light View / Passwords Set / Low voltage Set / Horn Mute / All Function SET/ OFF

MYKEY Premium BT Application features
1. Quick Vehicle gear by iPhone application via Bluetooth communication.

2. This application for HYUNDAI/KIA.

3. Upgrading functions by MYKEY BT application from original vehicle functions.

4. Able to upgrade the vehicle that is already installed MYKEY Premium.

6. Designed to control all function on the applicaiton of iPhone

7. Supporting MYKEY Sunroof module as option.

8. Essential to install "Shock Sensor" with BT system.

Caution


- BT system may not work properly incase of electromagnetic interference or out of range.

- BT antenna should attached to front windscreen, if not working range could be remarkably reduced.

- BT system working range could be reduced by obstacles or winding area, in this case try to connect from open place.

- In case of BT is not connected properly, move to open place to connect vehicle and the BT system.

- In case of BT system is tied up or located closely to GPS of Car Dash CAM or Navigation, the BT working range could be reduced remarkably.

- For faster afterservice, it may require personal information(mobile phone number register), personal information will not be used for the other purpose but only for after service.

- It may not support Widget function for MYKEY BT.

- Scheduled Remote Start function is not supported.
MYKEY Premium BT 1.7 Update
car select add and error update
More