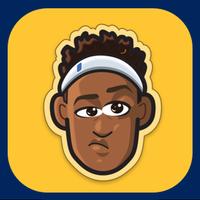 Myles Turner Small Stars
$0.99
Myles Turner Small Stars Description
Official Myles Turner Small Stars!

Small Stars are NEXT GENERATION emojis. Drag Small Stars on top of existing messages and watch them animate and interact with your conversations.

Fully integrated with iOS 10. Super easy to turn on!

A little birdie recently told us Myles has the chance to be the greatest Small Star ever :)

Small Stars - Collect them all!