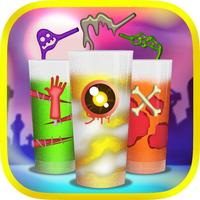 Name My Horrid Horror Club Frozen Slushies Game - Free App
Not Available
Removed
from the App Store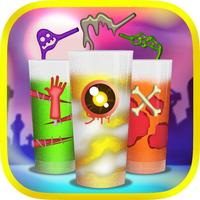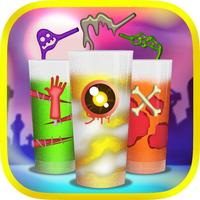 Name My Horrid Horror Club Frozen Slushies Game - Free App
Screenshots for iPhone
More Screenshots for iPad
Name My Horrid Horror Club Frozen Slushies Game - Free App Description
SIMPLE - MAKE IT & NAME IT!

HOW HORRID CAN YOU MAKE YOUR HORROR SLUSHIE!!!!!! THEN NAME IT!!!!!!

WHAT COMES FIRST THE NAME OR THE SLUSHIE....YOU DECIDE!!

THE MOST WICKEDLY AWESOME HORRID HORROR FROZEN SLUSHIE MAKING APP EVERRRRRRRRRR!!!!!!

You could name your frozen slushie something simple like VAMPIRE KISS, ROACHES AND SCREAM or something more stomach churning SCABTASTIC or ROAD KILL REVENGE!!

Are you brave enough to create your very own ulitmate horrible frozen slushies???

Decide on an AWESOME name that really suits your slushie mix and accessories!!

There are so many deliciously gruesome ingredients and flavours to choose from!!!

How about mixing...FRESH GUTS with EAR WAX...or even more tasty..CRUSTY TOE NAILS with OLD SCABS??

All these horror ingredients are there for you to come up with your very own nasty mixes!!

You don't have to wait for Halloween...you can now have Halloween all year round! You can even challenge your friends and family to come up with the worst cocktail of nastiness and who can come up with the best names!!...or

PLAY THE NAME GAME - you give another player the name and they have to create the slushie to suit it!!!

You can be a Haunted Halloween Frozen Slushie Maker hero and legend and produce so many glasses of grossness!

Don't forget to save the Named Frozen Slushies of Horror in the gallery for future glory when you want to work on your rancid recipies!

You can now be a halloween hero every day and have fun with all this frozen foulness!

Not only is it important to create the most unpleasant horror frozen slushies but you can also choose from so much more....
Cursed Cups
Sickening Straws
Gruesome Glasses
Lurgified Lables
Foul Flavours and Infected Ingredients!

WHO WILL BE THE MASTER OF THE HORROR THAT IS THE HORRID FROZEN SLUSHIE MAKER...DON'T WAIT FOR HALLOWEEN...DOWNLOAD THIS WICKEDLY AWESOME MAKER GAME TODAY, GET MIXING AND FIND OUT!!
Name My Horrid Horror Club Frozen Slushies Game - Free App 1.2 Update
More Information
In-App Purchases:

Unlock Everything $4.99

More