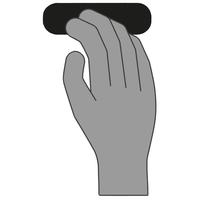 Neil Gresham's Hangboard Guru
$4.99
Neil Gresham's Hangboard Guru Description
Hangboard Guru is a climbing training app developed by Neil Gresham - world renowned climber, author, training guru and columnist for Rock and Ice Magazine. Based on decades of climbing and coaching experience, Neil has designed 140 individual training routines suitable for beginners, intermediates, advanced and elite climbers alike. Take your pick from strength, strength-endurance, endurance, core conditioning - choose your workout time and level, and start training. Every workout has a built-in warm-up/ warm down, and features videos of how to calibrate and perform each exercise.

Now your climbing & training can benefit from the decades of experience wrapped up into this app, for around the same price as a venti iced mocha!

Main features.
- Calibrate every exercise for maximum results in minimum time. It's like having your own private coach to pitch things at exactly the right level for you.
- Choose your board from a range of pre-supplied ones, or photograph and integrate your own hang-board.
- Customise your hold markers and place them over the holds you use for each exercise.
- Customise each exercise for holds, added or reduced weight, specific grip and add custom notes. These are automatically shown on-screen when you start an exercise, saving time and effort remembering all the combinations yourself.
- Each exercise is demonstrated with a beautifully shot 'how to' film to make sure you're using the correct form and help avoid injury.
- Watch calibration videos that go into more detail about the specific exercise and targets that you are aiming for with calibration.
Neil Gresham's Hangboard Guru 1.4 Update
Resolves a crashing bug that prevented iOS10 users from accessing the workouts screen
App now prevents the phone from going into sleep mode during a workout
Minor interface updates
More