Apps
»
Navigation
»
Netherlands: Marine Navigation Charts & Canal Maps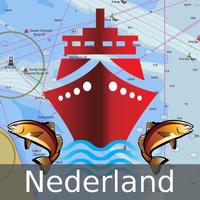 Netherlands: Marine Navigation Charts & Canal Maps
$29.99
Screenshots for iPhone
More Screenshots for iPad
Netherlands: Marine Navigation Charts & Canal Maps Description
GPS Marine Charts App offers access to RNC charts covering Netherlands (Holland) (derived from NLHO data) with POI layers created from ENC charts. Only marine GPS app to have route assistance with Voice Prompts for marine navigation. It has route manager to create new boating routes or import existing GPX/KML routes. It supports Nautical Charts course up orientation.

* Voice Prompts for marine navigation (requires GPS )
-prompts when approaching a boating route marker
-Continous distance and ETA updates
-Alerts when sailing/boating off route
-Alerts when boating in wrong direction

*** For any question, contact support at gpsnauticalcharts.com / http://www.gpsnauticalcharts.com ***
*Route Editing/Creation
-Create routes from scratch
-Edit existing GPX/KML routes.
-Add custom description to any route point.
-Drop markers along route.

* Offline Netherlands (Holland) charts. RNC charts are created from NLHO data.
-Visually draw area to download
-Textual search
-Catalog
-Charts reprojected for WGS84 datum

*Seamless chart quilting of marine charts
*Distance Bearing tool
*Create custom way points
- Using GPS
-Select point on map
-Manually enter latitude & longitude coordinates

*POI layer for marine charts
- Overlay POIs
- POI list derived from the equivalent ENC and contains all categories including Buoy, Light, Harbour facility, Obstr.

*Search POIs/Way points
*Pan/Zoom/My Location
* Record Marine GPS tracks
* View tracks overlay
* Live track animation
* Track analytics/stats

* Export GPX tracks.
-Export to SDCard
-Share GPX trakcs with friends

* Auto Follow Mode (Course up)
-Continuously updates boat's location on chart
- Adjustable update frequency

Sample Nautical Charts
Overzichtskaart IJsselmeer
IJsselmeer
Markermeer
Den Helder
Zeegat van Texel
Overzichtskaart Noordzeekust
Nieuwpoort
Oostende
Noordzeekust De Panne tot Oostend
Blankenberge
Zeebrugge
Noordzeekust Oostende tot Westkap
Breskens
Vlissingen
Westerschelde. Aanloop Vlissingen
Neeltje Jans
Noordzeekust Westkapelle tot West
Stellendam
Noordzeekust West Schouwen tot Ho
Scheveningen
Noordzeekust Hoek van Holland tot
IJmuiden
Noordzeekust Noordwijk aan Zee to
Noordzeekust IJmuiden tot aanloop
Overzichtskaart Zeeuwse en Zuid Ho
Breskens
Vlissingen
Westerschelde Cadzand tot Borssele
Hansweert
Terneuzen
Westerschelde. Borssele tot kruini
Walsoorden
Westerschelde. Walsoorden Bath
Westerschelde. Bath tot Lillo
Westerschelde. Doel tot Antwerpen
Kanaal van Terneuzen
Kanaal door Walcheren. Vlissingen
Bergen op Zoom
Tholen
Zoommeer. Kreekraksluizen tot Thol
Colijnsplaat
Zierikzee
Burghsluis
Oosterschelde. Oosterscheldekering
Overzichtskaart Zeeuwse en Zuid Ho
Veere
Oranjeplaat
De Omloop
Kamperland
Oostwatering
Veerse Meer Westelijk gedeelte
Kortgene
Wolphaartsdijk
Zandkreeksluis
Veerse Meer Oostelijk gedeelte
Kanaal door Zuid Beveland. Wemeldi
Zandkreeksluis
Goessche Sas
Stavenisse
Oosterschelde. Zeelandbrug tot Yer
Bruinisse
St. Annaland
Oosterschelde. Keeten Krammer Kr
Yerseke
Oosterschelde. Yerseke tot Bergsed
Ouddorp
Scharendijke
Brouwershaven
Den Osse
Grevelingenmeer Westelijke Zijde
Bruinisse
Battenoord
Herkingen
Grevelingenmeer Oostelijke Zijde
Overzichtskaart Zeeuwse en Zuid Ho
Bergen op Zoom
Tholen
Zoommeer. Kreekraksluizen tot Thol
Schelde-Rijnverbinding. Tholense b
Galathese Haven
Benedensas
Dintelsas
Ooltgensplaat
Oude Tonge
Volkerak. Krammersluizen tot Volke
Goudswaard
Nieuw Beijerland
Zuidland
Spui.
Middelharnis
Hellevoetsluis
Middelharnis aanloop
Stad aan 't Haringvliet
Den Bommel
Hitsertse Kade
Nieuwendijk
Haringvliet oost
Willemstad
Noordschans
Moerdijk
Strijensas
Dordtse Kil.
Moerdijk
Strijensas
Dordtsche

PLEASE NOTE: Continued use of GPS running in the background can dramatically decrease battery life.
Netherlands: Marine Navigation Charts & Canal Maps 71.0.0 Update
- Coverage for Netherlands is completely vector now derived from ENC charts.
- Compiled with latest version of Xcode.
More
More Information
Language:

Dutch

English

Finnish

French

German

Norwegian Bokmål

Russian

Swedish

More