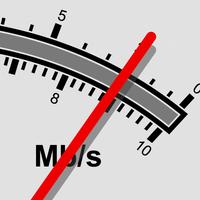 Network Multimeter
Not Available
Removed
from the App Store
Network Multimeter Description
Network Multimeter is an iPhone app that tests download speeds and network latency as you move around your house, coffee shop, or anywhere you have internet connection--wifi or cellular. This valuable tool can show you where the best network speed is available--just like you would use an analog multimeter to determine which batteries in your drawer have the most power left.

Unlike most network speed test apps this one is designed to give you a continuous and instant indication of the quality of the wireless network right where you're standing. Ever wonder why you get better wifi some places than others? Or if you're better off using wifi or cellular? This app is here to help.

It's also a quick and easy tool for comparing one access point speed to another, such as when presented with multiple options at a hotel, or just a quick way of verifying that you have sufficient speed for things like video conferencing or streaming video.

It even works with access points and mesh networks that utilize the same SSID. It does so by displaying the last 4 characters of the MAC address after the network name. Need a larger scale to display faster speeds, or go back to a lower scale in a dead zone? Just tap the meter and the scale cycles between one of three ranges. Want to see the history? Swipe up a graph view from the bottom.

Network Multimeter can either time the download speed of a file from the internet or use "ping", a standard protocol for testing the response speed of an address over a network.

When Wi-Fi Assist is active on your iOS device, the app will show the cellular network being used, and will update the display to show the AP SSID when Wi-Fi Assist is no longer active.

Limitations: Note that Network Multimeter is using actual download speeds and ping times to determine the quality of the wifi network and as such the output is not necessarily related to signal strength but rather reflects the real-world results of your overall network connection.

Supported Devices: Version 4.0 of Network Multimeter was designed for the iPhone and iOS 11. iPads with iOS 11 or higher are also supported. Older versions of Network Multimeter support iOS 5 and higher.
Network Multimeter 5.0 Update
SSID information now works correctly in iOS 13 (requires accepting location services)
More