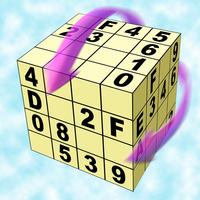 New 3D variation of SuDoKu, KySuDoKu
$0.99
Screenshots for iPhone
More Screenshots for iPad
New 3D variation of SuDoKu, KySuDoKu Description
KySuDoKu

Is a fully three dimensional and truly different variation on the classic SuDoKu game.

SuDoKu is played on a simple 9 x 9 grid that forms 9 columns, 9 rows, and 9 3 x 3 boxes, all of which have to contain the numbers 1 to 9. The grid contains 81 squares in all

KySuDoKu however is played on the faces of rotatable a cube, each face supports a 4 x 4 grid of 16 squares or tiles, giving 4 horizontal and 4 vertical rows, each of these rows extends around the surface of the cube to form a band which also contains 16 tiles. The cube holds a total of 96 tiles.

Like SuDoKu numbers can be used to fill the cube but they will range from 1 to 16, however it does not end there. In KySuDoKu you can choose between either letters, numbers, cyphers, or images.

The following sets of tiles are currently available:

Alphabetical ( A…P )
Decimal Numbers ( 1…16 )
Hexadecimal Numbers ( 0…F )
Roman Numerals ( I…XVI )
Viking Runes
Play it with Flowers
Hieroglyphics
Mystic World

To complete the game all 6 faces and all 12 bands on the cube must contain the full set of 16 tiles chosen for the game.

There are 16 levels of difficulty, and various functions such as a pencil mode where you can make notes, the ability to mark a particular tile type, automatic detection of two or more of the examples of the same tile on a face of the cube or on a band. These functions and others can be switched on or off in the 'Options" menu where you can also change the background design used for the menus and for the main game screen. Data on completed cubes is saved for future comparison.
New 3D variation of SuDoKu, KySuDoKu 1.1.3 Update
Removed resigned game bug
More