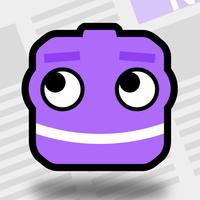 NewsBot - Listen to Your News Articles Handsfree like Podcasts
Not Available
Removed
from the App Store
NewsBot - Listen to Your News Articles Handsfree like Podcasts Description
Listen to your news articles!

* The app is now called NewsBot and has a brand new icon! (Previously named Telme John.) *


• Tune in to your favourite news feed while jogging or biking
• Stay handsfree while consuming your daily dose of news
• Nothing better while commuting, working, cooking or doing sport


• You don't need to touch your iPhone to control the app, use the earphone controls to skip to the next article or pause reading!
• App extension to read aloud any article from Safari or Twitter


« We often dreamt about it, now it becomes a reality (…) an app which can read aloud the newspapers from their websites. While jogging or commuting, Telme John makes a podcast from any newspaper. »
Sonntagszeitung, Zurich

« The app is a virtual news speaker. That makes it a podcast, that we can listen to while driving or doing fitness. The virtual news speaker can be controlled like a music player, therefore we can skip from article to article. »
Blick.ch

« A cool thing, not only for people who cannot see properly, but also not to miss the comfort of a voice reader on a smartphone or tablet. Almost every website can be read aloud, which opens completely new possibilities. »
PocketPC.ch

« This app is great. I listen daily to Global Voices' news while commuting! A lot easier than having to read on the phone screen. Plus I can control the app with the earphone controls. Very appreciated! »
Alan, San Francisco

« I have very busy work days, but I love jogging, which I do 2 to 3 hours a week. Telme John allows me to stay informed while doing sport. »
Jorge, New York

« I like radio, but I love even more my local newspaper, where articles go a lot deeper. Since I cook often, I just tune this app to my local German speaking newspaper and stay handsfree. »
Jason, Zurich

« I am a Facebook and Twitter junkie. But I don't have time to read every article posted by my friends. I open them with the app extension directly from Twitter or Safari, and listen to them while doing other things. That is cool! »
Silvain, Paris


Language supported:

• English
• Spanish
• French
• German


In addition:

• Add news web sites as if they were podcast feeds – no RSS needed, just a plain web site.
• Article list automatically extracted from the news sources.
• Audio reading with a few taps!
• Works even for news sites behind a pay wall – after logging in on the web view.


For visually impaired persons:

• Full accessibility support: very clean interface and few interactions necessary.


If you like this app, please rate it in the App Store, I will appreciate it!

Send me your feedback to patrick.jayet@gmail.com.
NewsBot - Listen to Your News Articles Handsfree like Podcasts 2.0.1 Update
• You can now play with the loading circle while waiting
• Improvement of some German translations
• Fixed bug where articles read with the extension where not showing up in the history
More
More Information
Language:

English

French

German

More