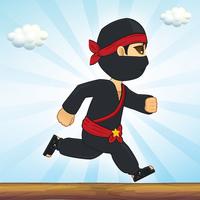 Ninja Run - The Ultimate Hero Ninja..!!
Free Get
Ninja Run - The Ultimate Hero Ninja..!! Description
Join Rukinodota the Ninja on his quest and journey to collect dragon stars in the mystic jungles of a secluded island in the west.

Ninja run - The Ultimate Hero Ninja..!!, is a limitless, gravity defying, 2d, side-scroll game that will only end if you hit the wooden blocks without fetching a booster. The booster (lightening rocket) increases your speed to zoom through all obstacles and increase your chances to get more dragon stars.

Rukinodota has unique skills and can run upside down in order to avoid wooden blocks that blocks his path and can knock him down as he gathers his most killer possession.

Breakdown:
-Very addicting, fun and amazing graphics!
-Test your tapping speed and reaction time.
-Tap the screen to avoid the blocks, and Rukinodota will switch from top to the bottom of the log, running upside down!
-Get as many dragon stars as possible without colliding with a wooden blocks.
-Get the lightening rocket booster to increase Rukinodota's power and speed through all obstacles while gathering dragon stars, for a few seconds.
-Great for all ages!
-Single player as well as multiplayer support
-High score Leaderboard

So what are you waiting for? Let's start the play..!!
Ninja Run - The Ultimate Hero Ninja..!! 1.2 Update