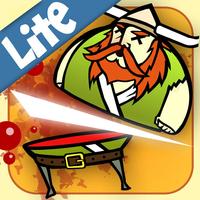 Ninjas vs Vikings Lite
Not Available
Removed
from the App Store
Ninjas vs Vikings Lite Description
An ancient rivalry comes to a head in this action-packed, fast-paced, epic slashing battle!

The Vikings have stolen the Ninja's princess, and now it's up to you to win her back. Can you hone your ninja skills to slash through the Vikings and over their towers? BE WARNED: the Vikings have tricks up their sleeves!

*****
"A decent slice-'em-up with a ridiculous premise" - Pocketgamer

"This has to be one of the most frustratingly infuriatingly addictive games I've played" ★★★★★

"Holy S, what a great game to play when you are having a dull day at work!" ★★★★★

"DIE VIKINGS. DIE!!! AAAAAAAAAAAAAAARRRRGGGGGGHHHHHHH. This game is driving me MAD! " ★★★★★
*****

· In this Lite version, try out a unique world of vikings and ninjas for free!

Upgrade to the full-length version for tons more worlds and levels.

In the full version:
· Hours of addictive, sweat-inducing action
· Oodles of thrilling levels
· 5 exceptional worlds!
· Unique and challenging Viking abilities
· Over 50 Ninja skill achievements
· Compare your skill with other players!
· Heart-pumping progression of difficulty
· Start out chilling, end up frenzied!
· Try it on the iPad with two people!
· Optimized for iPhone 3GS and above.