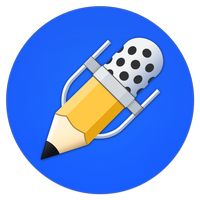 Notability
$9.99
Notability Description
Welcome to Notability: powerful, yet wonderfully simple note-taking and annotation. Apple's Mac App of The Year! Apple Editors' Choice on iPad, iPhone, and Mac!

Students, teachers, and business professionals use Notability daily to enrich their lives. It is uniquely designed for each device to provide the best note-taking experience at school, home, and work.

STREAMLINE YOUR WORKFLOW
• Become fully paper-free, in the classroom, office, and at home.
• Complete, sign, and share documents in Notability.
• Quickly create and edit notes by dragging and dropping documents, photos, or audio recordings from the desktop.
• Get more done with keyboard shortcuts.
• Secure and lock your notes using Touch ID.

SEARCH AND CONVERT HANDWRITTEN NOTES
• Search for handwritten words from the Library and in the note view in any of our 14 supported languages.
• Convert handwriting to text.
• It all happens on your device, so your information stays private.

SAVE TIME WITH MULTI-NOTE
• Multi-Note lets you open multiple notes at once in new windows.
• Easily access your recently opened notes in the Recent Notes subject.

ESSENTIAL FEATURES
• Notability includes full-featured, left-aligned typing with a wide range of fonts, sizes, and colors.
• Create outlines, interactive checklists, and text boxes.
• Fully express your artistic side with custom colors and match any color with the color dropper.
• Easily create perfect shapes and precisely erase all ink in varied brush sizes
• Handwriting has been fine-tuned to be smooth and expressive using a trackpad or mouse.
• Ink can be scaled, transformed, rotated, nudged (with arrow keys), and restyled.

IMPORT AND SHARE
• Import PDFs, DOCs, PPTs, images, GIFs, and more - conversion to PDF happens on your device, so your information stays private.
• Annotate imported pictures, lecture slides, and meeting agendas, or complete class assignments.
• Share notes via email, AirDrop, Dropbox, Google Drive, Box, OneDrive, and more.

RECORD AND PLAYBACK AUDIO
• Get more out of your lectures and meetings when you record them.
• Notes are automatically synced with audio recordings so during playback you can listen to what was happening as you wrote.

AUTO-BACKUP AND ICLOUD SYNC
• Use iCloud to automatically sync your notes to Notability on iPad, iPhone, and Mac, or to retrieve previous versions of your notes.
• Use Auto-backup to send your notes to a cloud service for archiving or recovery. Dropbox, Google Drive, Box, and OneDrive are all supported!

iOS app sold separately.

Notability is a registered trademark of Ginger Labs, Inc.
Notability 4.0.5 Update
***Bug fixes in 4.0.5***
• Fixed an issue where audio recordings could be interrupted when recording in the background
• Fixed a problem with Dropbox where folders could be missing when browsing files
• Other minor bug fixes and improvements
***What's new in Notability 4.0***
This is an exciting update for Notability! We've added powerful new features: Shapes, Partial Eraser, and improved image control.
Shapes
• Draw a shape, hold the stroke for a moment, then watch as it snaps perfectly into place!
• Shapes can be styled and manipulated like regular handwriting.
• Create circles, ellipses, triangles, squares, rectangles, hexagons, and irregular shapes
Partial Erase
• Precisely erase any ink in a variety of eraser sizes, including shapes!
• Partial erase supports both freehand erasing and perfect shape erasing.
• Once a stroke is separated, it behaves exactly like regular handwriting.
Additional Improvements
• Rotate and crop images easily with a new, streamlined interface.
• Added support for auto-backup to WebDAV
More
More Information
Language:

Chinese

Dutch

English

French

German

Italian

Japanese

Korean

Norwegian Bokmål

Portuguese

Russian

Spanish

Thai

Turkish

More