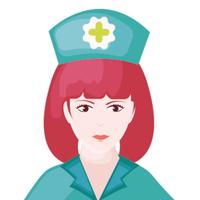 Nursemoji 2017 - Nurse Emoji and Stickers Keyboard
$2.99
Nursemoji 2017 - Nurse Emoji and Stickers Keyboard Description
Say it on a Cute way with more than 60 Nurse Emoji, Stickers & Quotes!

-The #1 App for proud Nurses is now Available!

*Share your Moments in the best way possible!

*Use the Largest Nurse Stickers and Emojis Collection ever Made!

*Share your Nurse-Life with your Friends with Nursemoji 2017!

*The NurseMoji keyboard works in all messaging applications where the copying and pasting of images is supported.

*A NOTE ABOUT ALL ACCESS: Privacy is our top priority. Nursemoji does not collect any personal identifying information or transmit anything you type. Turning on "Allow Full Access" gives the Nursemoji Keyboard permission to copy and paste the emoji images.
Nursemoji 2017 - Nurse Emoji and Stickers Keyboard 1.0 Update