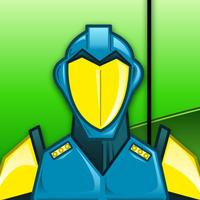 Offworld Tactics
$0.99
Screenshots for iPhone
More Screenshots for iPad
Offworld Tactics Description
From the two guys that made ShipmatcH and Zombies of the Dead.
With almost 3 years spent in development, comes their most ambitious project yet.

OFFWORLD: TACTICS!

When covert deep space technology needs repairs, a team of highly trained specialists are sent to perform just such task. What the team didn't know is WHY everything on the Wandering Star needed repairs...

Now, surrounded by hostile aliens, and mercenaries sent to keep you from the truth, the team must fight their way back to safety, and hopefully to some answers!

GET TACTICAL:
Play the game in two completely different modes! Action mode for fast paced 3rd person shooter action, with gameplay straight out of a console game, complete with cover system! Or play Tactical mode, a top down squad based RTS where you control every action of your team of four!

NO GAME IS EVER THE SAME:
Battle your way across varied locations including cramped spaceship halls, secret facility bunkers and vast planetary surfaces!
Every level layout is randomly generated, creating almost infinite possibilities within the nine campaign missions. Monster placement and reactions will be different every time you play for more variation and replayability!

TOO HARD? TEAM UP:
Play through the entire campaign with up to four players in co-operative mode! Customise your player colours to stand out locally with wifi or globally thanks to Game Centre, in both Action and Tactial mode!

ARM UP AND MOVE OUT:
Collect 20 different weapons, starting from the humble pistol and working your way through SMG's, Assault rifles, Sniper Rifles all the way up through Flame throwers to the devestating Rocket launcher, and Maintainence Spiker! And if a single gun isn't your style, you can always dual wield!

TAKE ON YOUR FRIENDS:
6 different styles of randomly generated arenas await players who like to make things personal! Prove who is the best in Death Match, Blaster Master, or the co-operative Horde Mode!

FIND THE SECRETS, UNCOVER THE TRUTH:
With two different endings and plenty of hidden packages delivering bonus artwork to players, there's no reason not to play this game with friends again and again! Can you keep your entire team alive long enough to find out what has happened?

Have you got what it takes marine? Download OFFWORLD: TACTICS today!
Offworld Tactics 1.1 Update
This update includes the following fixes and features:
* Now compatible with iPhone 6 Plus, 7 Plus and 8 Plus,
* New control schemes to suit your preferred play style,
* Added lots more on-screen enemies for more action,
* Fixed a bug that caused Echo to mysteriously die in act 1,
* Fixed a touch-control issue that happened when the frame rate drops,
* Temporarily removed Game Center (until we can get it sorted).
More