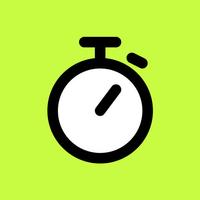 Optimal Rest
$0.99
Optimal Rest Description
Did you know optimizing your rest between sets can maximize your gains by up to 3.5x?*

Optimal Rest is a science-backed rest timer with predefined rest ranges. It's designed to help you increase gains at the gym. Lifters may add or subtract rest while always staying within effective, studied ranges. Optimize your rest and get swole.

Features
- Predefined training styles with their effective rest range
- Max rep calculator to help you figure out your current training style
- Customizable rest timer with 15 sec increments
- Voice Feedback
- Non-looping timer

*Robinson, J et al. Effects of different weight training exercise/rest intervals on strength, power, and high intensity exercise endurance. J. Strength Cond. Res. 9:216-221, 1995.
Optimal Rest 0.2.1 Update
Added Set Rest Timer
- Automatically sets 4:00 timer at the completion of a set.
- Returns to last rest value when the set rest finishes.
- User configurable (on/off)
Added Tap Sounds
- User configurable (on/off)
More