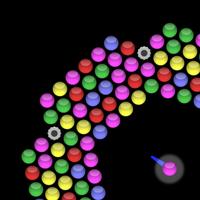 Orb Wars
Free Get
Screenshots for iPhone
More Screenshots for iPad
Orb Wars Description
Orb Wars 3 is the third revision in the award winning Orb Wars / Bubble Wars series where you conquer an orb or bubble spinner to advanced through levels .

Attack Mode - Shoot colored orbs at the spinner circle and try to shrink it. If you get 3 or more colors in a row the orbs are conquered and fly away. Otherwise the circle can grow towards you.

Defend Mode - Shoot colored orbs at a spinner ring of orbs that surrounds you. If you get 3 or more colors in a row the orbs are conquered and fly away. Otherwise the ring can start shrinking around you.

Classic Mode - Play until the balls touch you and then the game ends. In classic mode the game gets harder at each level.

Onward Mode - An extension of class mode, continue previous games. Levels stack at beginning of a level or right before game ended.

Sudden Death Mode - Your first set of orbs is your only set. As long as you land them well you can continue playing but once all seven have been lost the game ends.

Two Player Mode - Compete against another player. You both play the exact same game field and can even see the other player's game! There are four variations of the two player game, two round based ones and two timed ones.

How to play:

Simply shoot orbs, trying to get 3 or more orbs of the same color next to each other. Try to finish a level to go to the next, where you get more points for each conquered orb. At the beginning, try to reduce the number of orbs by destroying three or more at a time. When their number has decreased, aim to remove orbs of the same color. Once all orbs of a certain color are gone, the color won't come back, make it easier to remove orbs of the remaining colors.

Each orb is worth 1 point times the level you're playing so the higher the level, the more points you earn. However the higher the level, the more orbs that can fall and the number of colors also increases.

Each game type and mode (Attack, Defend, Onward, and Sudden Death) maintains its own high score so you can know how well you did.

Advanced tips:

You can not really throw away orbs you do not need. If an orb leaves the screen, it will come back the next time orbs are added. Because of this, make sure you do not throw away orbs unless you really have to. Or unless you are sure you can finish the level before the orbs come back.

Thanks for playing Orb Wars 3!

This application includes fonts created by Dan Zadorozny. This application includes sound effects created by DJ Griffin and Iwan Gabovitch.
Orb Wars 1.1 Update
Bug Fixes (Internal improvements to remove small pauses when switching game modes)
More