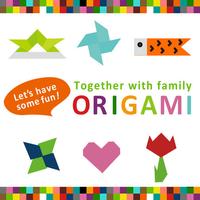 [ORIGAMI] Together with family
Free Get
[ORIGAMI] Together with family Description
How to make origami that is fun and easy for children and for parents.

Has your child ever had difficulty making origami because it is too hard? Even when they ask for

help, you can't complete it?
This app is a collection of just the basic origami explained in simple and easy steps.

Origami Choices
-Samurai Helmet
-Pin wheel
-Koi Fish
-Ninja Star
-Heart
-Flower(tulip)

Together with family, let's make some origami!