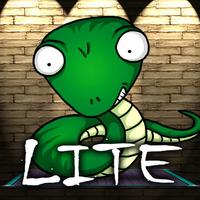 Original Snake Lite
Free Get
Original Snake Lite Description
A troublemaker snake! Original Snake Beyam's Adventure!

For the game basic operation, you touched left and right on the screen, the Snake will be based on your click to move.

It is a very simple mode that be divide into obstacle and item mode.

✔ Game Mode
1. Normal mode (included:Lite Version)
It is snake game that you eat frog will become a long snake, and will be faster.
2. Obstacles mode (included:Lite Version)
If you do not finished frog eat within a limit time. The frog will become obstacles to hinder the game.
3. Item mode (included:Full Version)
There is various items which is poison, speed up, speed down and others appear in the mode, and make various situations of the game to enjoying.

✔ Control
1) To turn left, touch the left side of the screen.
To turn right, touch the right side of the screen.
2) The snake will change the direction to the point where the finger was 'lifted off' the screen rather than where it was 'touched'.

✔ The sound effects are available in three languages; Korean, English and Thai.

✔ Please have fun.

✔ 1.32 Version update!
Wow! Open obstacles mode.
Original Snake Lite 2.00 Update
New Control : Control Pad
More