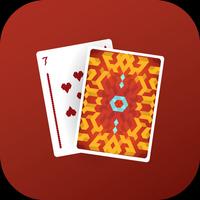 Over and Under - Drinking Game
Not Available
Removed
from the App Store
Over and Under - Drinking Game Description
Over and Under, is a great drinking game for any occasion, place or time. You can play it with only two people, or pass it around as you play with up to 10 other people! Play with different modes depending on how much you want to drink! Simple and fast, but still exciting and extremely fun!
So grab a friend, crack open a beer and get the party started with Over and Under!

Gameplay:
To play the game at least 2 players are required. When you start the game a card is presented. The first player then guesses if the next card will be higher(over) or lower(under) than the previous card. For each correct guess the number of sips you need to take increases. When you have guessed correctly at least 3 times, you can "pass" it on to the next player, who then continues your turn. The person who guesses wrong has to drink the number of sips displayed and try again.

Disclaimer: We do not endorse under-aged drinking.