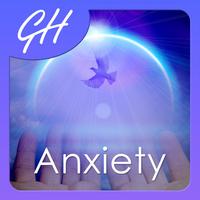 Overcome Anxiety Hypnosis
Not Available
Removed
from the App Store
Screenshots for iPhone
More Screenshots for iPad
Overcome Anxiety Hypnosis Description
Overcome Anxiety by Glenn Harrold is a high quality hypnosis and meditation app that will give you all the tools you need to control anxiety and feel much more calm and in control of your stress levels. It can also help with fear, worry and depression.

Glenn has many celebrity endorsements and is one of the world's best-known hypnotherapists with multi-million sales of his Apps, CDs, MP3s and 7 self-help books.

Overcome Anxiety features two completely free 30-minute hypnosis sessions, which will give you a taste of Glenn's work. If you enjoy these free sessions there are over 70+ healing hypnosis and meditation audio titles available as inApp purchases.

The free Overcome Anxiety recording has a very warm feel to it and will guide you into a deeply relaxed and safe space. From this inner place you will be guided to release the causes of your anxiety in a safe way. You are then guided to create an anchor to help you feel calm and composed when you are faced with stressful situations in your everyday life.

The sound effect, echoed affirmations and main hypnotherapy track combine to create a powerful recording that will give you much more control of any feelings of anxiety. Glenn uses his unique and highly acclaimed hypnotherapy techniques to get to the heart of this common problem.

It is recommended you use the recording regularly so you can work with the techniques and break free of any destructive conditioning. With regular use of the recording and by absorbing the post hypnotic suggestions, you will feel so much stronger inside and cope more easily with the ups and downs of life.

This is a real therapy track rather than just a relaxation track and it will help you deal with the effects of many types of stress faced in modern day life. This powerful hypnosis recording will help you feel so much more in control in all areas of your life.

The 70+ inApp hypnosis and meditation recordings cover all aspects of stress and anxiety and these powerful healing tracks:

Overcome Anxiety
Complete Relaxation
Deep Sleep Every Night
Develop Your Self Confidence
Learn How To Think Positively
Stop Smoking Forever
Lose Weight Now
Build Your Self Esteem
Develop Successful Relationships
Heal Your Body
Develop A Powerful Memory
Raise Your Energy & Motivation
Creating Inner Peace & Calm
Overcome Fears & Phobias
Star Meditation
The Sonic Solfeggio Meditations
Feel Alive Now (10 min booster)
Spiritual Healing
Overcome Procrastination
Heal Your Inner Child
Spiritual Weight Loss
Pain Control
Assert Yourself With Confidence
And many more.....

How Glenn's recordings Work:

On each hypnosis and meditation recording you will hear special background sound effects, which have been recorded in specific keys and frequencies to help guide you into a deep state of mental and physical relaxation. At the deepest point in the session you are given a number of post-hypnotic affirmations and direct suggestions to help you with the healing process relating to the title of the recording.

You will also hear a number of background affirmations, which echo and pan from left to right across the stereo range, ideal when using headphones. This deeply relaxing and powerful method of delivering multiple suggestions simultaneously to the unconscious mind can facilitate positive changes very quickly.

This Hypnosis App Features:
* A completely free overcome anxiety hypnotherapy session.
* The very latest hypnotherapy and meditation techniques and state-of-the-art digital recording technology.
* Glenn's highly acclaimed hypnotic vocal techniques guiding you into a completely relaxed state of mind & body.
* Dreamy background sound effects recorded in specific musical keys and frequencies to compliment the hypnotic suggestions and deepen the relaxation effect.
* Stereo-echoed affirmations, which pan from ear-to-ear across the stereo range - a deeply relaxing and unique effect.
Overcome Anxiety Hypnosis 1.5.11 Update
Minor content changes.
More