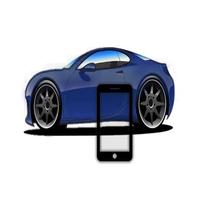 Paint Reader
Free Get
Paint Reader Description
Looking for a way to detect if a car has been in an accident? Try this comprehensive accident detection app "Paint Reader" to scan your car for accidents. This approach of car scanning for accident signs is extremely cost effective and trustworthy.
With the "Paint Reader" app, you can pinpoint which part of the car has been damaged as the result of the accident. The app usage principle is simple. It just tracks the area of the car where paint is damaged to detect the damaged part of the car due to accident.

************************
HOW IT WORKS?
************************
Are you still wondering how the app detects the accident point on your car. Here is how -
- Capture picture of different parts of the car through the app
- Submit the details to know the accident results
As you submit pictures of your car, you will get to know whether your car has met with an accident. You can save your car details under different categories as per your choice and preferences. While capturing the car images, you capture images such as - Front Bumper, Right Fender, Right Door, Right Passenger Door, Back Bumper, etc.
This car accident detection app is free to use! So, what are you waiting for? Download this amazing "Paint Reader" app to detect accidents on your car.

************************
SAY HELLO
************************
We are constantly working hard on making the "Paint Reader" app better and more useful for you. We need your constant support to get going. Please feel free to email us for any queries/suggestions/problems or if you just want to say hello. We would love to hear from you. If you have enjoyed any feature of the "Paint Reader" app, do not forget to rate us on play store.