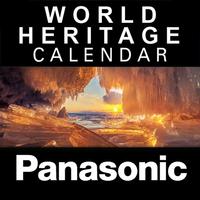 Panasonic WH Calendar
Free Get
Panasonic WH Calendar Description
This calendar app allows you to enjoy beautiful photographs of World Heritage sites wile learning interesting trivia about culture and nature related to the sites.

FEATURES
> In landscape mode, the app displays today's date like an ordinary desk calendar.
> In portrait mode, the app displays today's date along with the time.
> Set as a slideshow, the photographs randomly changes every 60seconds.
> Display your favorite photograph with the Quick Navigation button.
> Switch languages to select from Japanese, Chinese, English, French, and Spanish.
> Display trivia related to the Heritage Site on screen by tapping the detail button.

CAUTION: Due to the copyrights of the photographs used in this app, the app will automatically stop functioning on December 31, 2019. The 2020 version is scheduled for release in December 2019.

Panasonic and World Heritage
Panasonic has been publishing The World Heritage Calendar, in collaboration with UNESCO, since 1995 as a part of efforts to preserve valuable and irreplaceable treasures of the world. In order to reach wider audiences, including the UNESCO Associated Schools Project Network (ASPnet) made up of 9,000 schools in 180 countries, and raise awareness of the importance of the sites, Panasonic started to publish a web version of the calendar in 2010.

This application is an adaptation of the web version of the calendar, taking full advantage of the beautiful display of the iPad to show the photographs as if placed in a digital photo frames.

Panasonic wishes to aid in the preservation of invaluable heritage sites with this application. In collaboration with UNESCO, future plans call for the addition of more content.