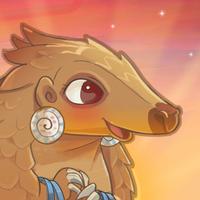 Pangolin's Puzzle
$3.99
Screenshots for iPhone
More Screenshots for iPad
Pangolin's Puzzle Description
A timid young pangolin embarks on an unexpected adventure with only one weapon: a powerful, problem-solving imagination. Help her outwit a group of dangerous poachers to become an unlikely hero!

Pangolin's Puzzle introduces a new twist on the classic logic grid puzzle. The player must read a set of clues, then deduce where each game piece belongs on the isometric game board. The game will challenge players' attention to detail and hone their critical-reading skills. Pangolin's Puzzle is not your average casual puzzle game. It is mid-to-hard core game and an excellent option for families to play together.

Pangolin's Puzzle aims to create an emotional connection to the plight of the pangolin through its heart-warming story. "Katiti", the game's pangolin protagonist, is named after a real baby pangolin whose rescue and rehabilitation was popularized on social media. The game offers curious players more information about endangered pangolins, the challenges involved in their conservation, and links to organizations working to save the animals. Hero Factor Games donates 50% of profits from in-app purchases to support these organizations.


"Pangolin's Puzzle is a new mobile game that offers a refreshing approach to the puzzle genre" - Jessica Conditt, Engadget.

====

CHALLENGING LOGIC PUZZLES
Difficult brain-teasers are carefully woven into the storyline to create an intensely immersive experience.

HEART-WARMING STORY
Explore themes of purpose, bravery, and good stewardship of the earth in this thoughtful story inspired by a real pangolin.

BEAUTIFULLY PAINTED ART
Diverse cast of characters, colorful African landscapes, and imaginary worlds with a rich, wood-carved aesthetic and 2-D isometric puzzle play.

ORIGINAL SOUNDTRACK
Ethnic-inspired music and sound effects stimulate the mind and enhance the immersive atmosphere.

PLAY WITH PURPOSE
Hero Factor donates 50% of profits from In-App-Purchases to conservation organizations like REST Namibia that are working to save real pangolins. At the same time, we respect your pocketbook. You will never be able to spend more than $5.99 USD on IAP for the game.

Pangolin's Puzzle also features an estimated 3 to 6 hours of gameplay, unlockable bonus stories, iCloud sync, and Game Center achievements.
Pangolin's Puzzle 1.3.4 Update
- New and updated UI including, Menus, Clues & Dialog, Puzzle Piece Shelf, Hints, and Callouts
- Additional minor graphical tweaks and bug fixes
More