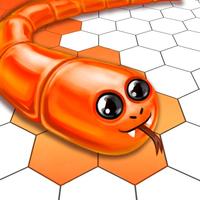 Paper Territory.io Snake Draw
Not Available
Removed
from the App Store
Paper Territory.io Snake Draw Description
Compete with other players and show everyone who is the boss here! It is time to have a little snake drawing battle in our new game. Draw a string on paper and get back to your territory to own territory inside the string. So compete in our new game, in which your snake will have to own the biggest amount of paper territory. You can consume opponents only on your territory or you will have to get back to your territory until your string vanishes, otherwise you will be eliminated. Conquer the most part of the paper territory to win. There can be only one winner. Draw as fast as you can to become the owner of paper territory in our new game. Control your snake, leave the biggest amount of drawing and become the best in our new simulator: Paper Territory.io Snake Draw.

In this drawing simulator, your target is to draw as fast and as much as possible. Control your snake and conquer the paper territory with your drawings. If you will consume player on your territory, you will eliminate him. If you will eliminate player and get back before your string vanishes you will survive. If your string vanishes before you reach your territory, you will also be eliminated. Think fast and become the mightiest in our game. Share this game with your friends and compete, find out whose snake will leave more drawing. Move forward and conquer paper territory to win. If you will do everything correctly, than owning the paper territory will not be a big deal for you.

Paper Territory.io Snake Draw is a free to play simulator of snake race. Draw as much as possible on paper territory and win the competition. Do not be shy and consume other players. Make sure that you have time to reach your territory after you have eliminated your opponent. Consume other players to conquer their territory and make it yours. In this game can be only one winner, so show everyone that this place is yours! Call your friends and show them that you will easily eliminate them. Conquer territory as fast as possible to leave your friends in the end of the scoreboard and become the winner. Download our new game and start drawing on paper territory with your colorful snake.
Paper Territory.io Snake Draw 1.0 Update