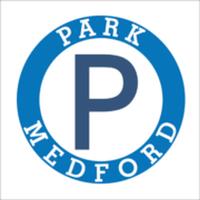 Park Medford
Free Get
Screenshots for iPhone
More Screenshots for iPad
Park Medford Description
Park Medford – Find Parking in Medford
A Smarter Way to Park
Parkmobile USA, Inc.

The Park Medford app, powered by ParkMobile, gives you a smarter way to park in Medford. Easily pay for on-street and off-street parking right from your mobile device. You can also reserve parking ahead of time in lots, garages, venues, airports, and universities across the country. You can use the ParkMedford app in over 370 other cities across the country, including New York, San Francisco, Washington, D.C., Atlanta, Chicago, Miami, New Orleans, Dallas, St. Louis, Minneapolis, Pittsburgh, Philadelphia, and more.

Why Use Park Medford?

• Skip the meter and easily pay for parking from your mobile device
• Extend your parking duration remotely from the app
• Get alerts so you know when your parking session is going to expire
• Reserve parking spots ahead of time to save time and money
• Use ParkMobile in over 3000 locations coast-to-coast including venues, airports, and universities

How to Set Up Your Account

• Download the Park Medford app and create an account with your email address and password
• Enter your license plate number and the state where your vehicle is registered
• Add your method of payment and start using the Park Medford app

How It Works

On-Street and Off-Street Parking:
• Enter the zone number on the posted signs around the meter
• Select the amount of time you want to park and confirm your information
• Touch the "Start Parking" button to begin your parking session
• Extend time in the app if you are running late
• Touch the "Stop" button to end your active parking session

Parking Reservations:
• Search for the area where you want to park and select the specific parking location
• Choose the date/time and complete your reservation
• Follow the instructions in your confirmation to redeem at the parking facility

App Features

• Customizable notifications delivered via email, text, and/or app
• Save your favorite parking locations for next time
• Store up to five cars in your account
• "Find your car" feature directs you back to the location where you parked
• Turn-by-turn directions to the parking garage where you reserved your spot
• Multiple payment methods available including PayPal, Visa Checkout, ApplePay, MasterPass, ChasePay, and most major credit cards


About ParkMobile

Parkmobile, LLC is the leading provider ParkMobile, LLC is the leading provider of parking payment solutions in the United States, helping over 13 million people easily find, reserve, and pay for parking from their mobile devices.

Looking for Help?

At ParkMobile, we're serious about customer service. We process over 200,000 parking transactions every day and we know that every now and then, something might go wrong. If you have an issue, we will do everything we can to make it right. Our customer service is 24/7/365. If you need help, here's how to get in touch with us:

Web: https://parkmobile.io/
Email: helpdesk@parkmobile.io
Online Help Center: https://parkmobile.zendesk.com/hc/en-us
Video Tutorials: https://www.youtube.com/playlist?list=PLkFsfUAHrnUc5jOm9XtjOmmJQt4YTTCyA
Twitter: https://twitter.com/ParkMobile
Facebook: https://www.facebook.com/ParkMobile/
Park Medford 8.7.1 Update
• Prominent in-app reminder to confirm the car you are parking before you start a parking session. This is an easy way for you to double-check that you are parking the right car in your ParkMobile account. If you want to switch cars, simply touch "change" and you will be able to select another car or add a new car.
• Improved parking session expiration alerts with vibration and sound to notify you when your parking is about to end
• We have moved "History" to its own tab to allow for more focus on upcoming and active sessions.
• Other minor bug fixes and UI enhancements
More
More Information
Language:

English

German

More