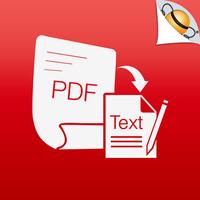 PDF to Text
Not Available
Removed
from the App Store
Screenshots for iPhone
More Screenshots for iPad
PDF to Text Description
PDF to Text is an utility designed to extract text from PDF files for use in other applications.

To extract text from a PDF file, the PDF file must meet the following conditions:
- The file is formatted to contain text and not just images.
- The file contains no security restrictions which disable text selecting.

Note: Text formatting may be lost after exacting from the original PDF file.

Quick Start
Exact text from a PDF file in mail app can be as easy as three steps:
1. Open Mail app, use "Open In.." to send source PDF file to PDF to Text.
2. Go to PDF to Text app, touch to open the source PDF file where text come from.
3. Click "Convert" button to extract PDF to text files.

Key Features:
• Really attractive, super easy to use interface
• Import PDF from Mail, Safari, Adobe Reader, GoodReader, Dropbox and other apps.
• Support encrypted PDF files conversion, You can convert PDFs with copying and printing restrictions without any problems.
• Build-in Text Editor let you view and edit text files.
• Mail out documents as email attachments or Send files to other apps("Open In.." integration).
• Share and Compress files to .zip file.
• File manager, rename, copy, move, delete and compress.
• Paste file(s) from clipboard (Add files from other app).
• Copy file to clipboard (Used for mail or other app).
• Wifi file transfer (Use Web Browser or WebDAV clients to Upload or Download files).
• USB file transfer (iTunes USB file sharing).
• Print PDF or Text to AirPrint-enable printers.

Several sample files have been included, you can test it right now!

Q&A
1. Why I get "Converting failed" error message when I extracting from a PDF file?
Do you have a PDF (Adobe Acrobat) file which cannot be printed, copied, or edited? Your PDF file has had password security and other restrictions added, you need remove restrictions.

2. Why some text in PDF file can not be extracted out?
The PDF file format is complex, there are cases that text in a PDF file are actually pictures. We do not grantee PDF to Text will work for every PDF file, especially ones that have picture text.

Please send us your PDF file for testing before buying our app, we will test it, and give you the result!

We are continuously developing this app, so please feel free to contact us with your questions, suggestions or any problems, and we will reply ASAP.
PDF to Text 2.1 Update
> iOS 10 Compatibility. Fully compatible with iOS 10 now.
> Update file list sort, Bugs fixed.
> General performance and stability improvements.
Thank you for using our app! If you have a moment to leave a review in the App Store we would really appreciate it.
More