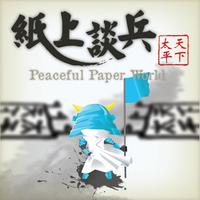 Peaceful Paper World
Not Available
Removed
from the App Store
Peaceful Paper World Description
Peaceful Paper World is a Traditional Chinese Game. We played this game in our childhood. It is a two-player game, with each player drawing a castle on each side of a piece of paper. You build up shields to protect the castle, then setup armies to defend your land and conquer the opponent's castle.

The background of the story is played in the mainland China. There are seven battles to conquer before uniting the country. In every battle, there are different scenes, and they are definitely creative and innovative.

You have to be real smart and full of luck to beat the enemy!

天下太平是一隻傳統的中國人民間遊戲. 相信大多數的中國人也在孩童時代玩過這遊戲. 它是二人對陣遊戲, 各據一方, 建城守池, 募兵攻敵.

此遊戲以中國大陸為版圖, 共有7場戰役, 運用道具, 加隆砲, 英雄, 飛機坦克來完成大業. 你必須要有"腦"及一點點運氣才能完成這隻超難的遊戲!
Peaceful Paper World 1.0 Update