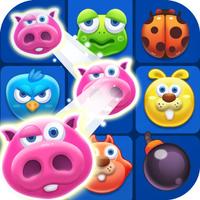 Pet Link Pop
Free Get
Pet Link Pop Description
Pet Pop Line is the best Pet rescue Free game 2015. This is a kind of swiped pets which is match-3 puzzle classic game and very attractive connect lines puzzle game!Pet Pop Line is a very addictive splash and most interesting match-three casual game in the google play, is a legend of pets puzzle and casual game which is suitable for kids, toddlers, baby, girls also boy, support phone and tablet.Connect colorful lines of pet to solve hard levels in this puzzle adventure!
Objectives differ in over many levels in pet farm match game. Make matches of 3 or more pets, create pet blast! or slide combination 3 or more same pets to make a pet pop! Swiped pets to make the pet smash,You need to connect colorful lines of Pet to compete challenging levels in this puzzle adventure.
Clear three or more same pets to score points fast complet your journey with cute tiny pets,Reach the goal before the moves run out his match-3 game is also a brand new amazing casual game, completely free! Pet Crush, also called Pet Mania, will surely bring to you joy moments! Switch and match your way through hundreds of levels in this pet farm puzzle adventure.
Try to use game props to make more combo! Play amazing and tasty Pet Line Legend! Beautiful animation & cute graphic, travel through the colorful Farm Village of my tiny pets to relax with exciting game-play and amazing level design. Help the people you meet have a happy pet story!
Come on, let's get the most fun out of Pet Land!
Pets Pop Line FEATURES:
- Enjoy pet farm story with many farm heroes : Cat, Bird, Rabbit, Panda, Frog,Pig and so on.
- Master five challenging gameplay modes, including high score, free the pet, and pet drop!
- Sweet and delicious graphic and cool animation effects.
- Make combo, rescue pet to make the farm become farm paradise
- Magic boosters: pet boom, pet pop, pet blast- More than 60 fun levels of saga puzzles and continuous updates.
How to play:
1. Connect three or more same pets to score points.
2. Archive the target points to level up.
3. Eliminate the more pets quickly can get extra scores.
4. Kill bugs as fast as possible to save my pets and make easy play with happy farm, no bugs.
5. Break frozen to save my pets and make easy play with happy farm, no frozen.
TIPS:
- Pet Bomb to crush/bust pet break base on a line
- Rescue my pet by frozen, bugs.
- Hourglass countdown to rush you get more score
- Pet rescue avoid bugs, it will spread and infect yout tiny Pets
- Splash special pet item, it can link any another pet to crush pet link match.
- Pet Blast: blast all pets in some line
Pet Line Legend is cloned by pet rescure, but have more challenging with Splash special pet item,pet boom, bugs and pet infected.
Splash the pets!Play amazing and tasty pet Rescue - pet Line !
Want a relaxing game for a while? pet Line is your choice, it is a simple and addict game for relax.
You swipe and make longest chain of same pets in this game with exciting special powers.
There are different targets in each level, you collect pet chains to fill these targets, when all of the targets for a level are removed, you pass this level.Take a bite into pet splash mania with its unique line-drawing puzzle gameplay! Match together festive pets that ripen into colossal combos! attractive fresh new pet connect line puzzle game brings tons of joy and challenges!
Connect the pet to create blasters, free captured pets and play your way in the adorable pets world!
Come and join in an easy joy! Let the cute pet brighten up your day! It is full of love, In this small farm, you need to collect the pets. Come on, join this fantastic adventure call Swiped pets to make the pets break. Is this a real pets – legend - game?
We try our best to design the most interesting games, anyway, there are some points still not good enough. If you have any suggestions please tell us. Any your suggestions for improving are all the best supporting for us. Thank you!