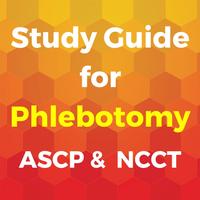 Phlebotomy Study Guide 2017
Free Get
Screenshots for iPhone
More Screenshots for iPad
Phlebotomy Study Guide 2017 Description
This is the only app you need to pass the ASCP/NCCT the Phlebotomy Technician exam at the first attempt. All study notes are very concise and short enough to be understandable immediately. Each note/guide is related directly to the most current Phlebotomy exam and is followed a series of review question. You never have to read other boring Phlebotomy/Phlebotomist certification textbooks anymore.

Premium Features:
+) Hundreds of concise and up-to-date STUDY NOTES
+) Thousands of review questions for the most current Phlebotomy (NCCT and ASCP)
+) Measure your Weakest and Strongest knowledge areas.
+) Get ready for the exam by the EXAM BUILDER

Get the FREE APP now to enjoy:
+) Hundreds of exam review materials and practice questions
+) Free EXAM SIMULATOR
+) Tracking your study progress

With the price as low as a cup of coffee, you will get EVERYTHING and FOREVER:
- All the Study Guide materials
- Unlimited time Exam Builder
- Lifetime support and future updates 24/7

If you don't like the app, don't worry, you have our 90 days money-back policy. There is NO RISK at all to unlock this app!

The National Certified Phlebotomy Technician (NCPT) examination is administered by the National Center for Competency Testing (NCCT), a credentialing organization founded in 1989.[1] The examination is periodically updated based on the results of job analysis surveys to ensure that the material tested matches the skills and knowledge phlebotomy technicians (PTs) use in the real world. In these surveys, more than a thousand PTs rate the significance of various job tasks, and a committee designs the test plan for the examination based on these survey results.

The ASCP Board of Certification (BOC) is a recognized leader in certification of medical laboratory professionals. By earning credentials from the ASCP BOC, laboratory professionals demonstrate their competence to carry out their responsibilities in this critical profession. In turn, they reap the benefits of better job prospects, higher salaries and the respect of colleagues. Long considered the "gold standard," BOC certification is sought out by seven times as many laboratory professionals as any other lab professional credentialing organization.

Phlebotomy (from the Greek words phlebo-, meaning "pertaining to a blood vessel", and -tomy, meaning "to make an incision") is the process of making an incision in a vein with a needle. The procedure itself is known as a venipuncture. A person who performs phlebotomy is called a "phlebotomist", although doctors, nurses, medical laboratory scientists and others do portions of phlebotomy procedures in many countries.

Phlebotomists

Phlebotomists are people trained to draw blood from a patient for clinical or medical testing, transfusions, donations, or research. Phlebotomists collect blood primarily by performing venipunctures, (or, for collection of minute quantities of blood, fingersticks). Blood may be collected from infants by means of a heel stick. The duties of a phlebotomist may include properly identifying the patient, interpreting the tests requested on the requisition, drawing blood into the correct tubes with the proper additives, accurately explaining the procedure to the patients, preparing patients accordingly, practicing the required forms of asepsis, practicing standard and universal precautions, performing the skin/vein puncture, withdrawing blood into containers or tubes, restoring hemostasis of the puncture site, instructing patients on post-puncture care, ordering tests per the doctor's requisition, affixing tubes with electronically printed labels, and delivering specimens to a laboratory.

Disclaimer:
This app is not affiliated with or endorsed by any kind of professional certifications, test names, trademarks, or testing organizations.