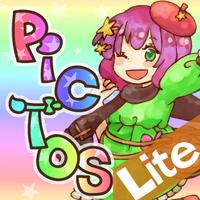 PiCTOS Lite Version
Not Available
Removed
from the App Store
PiCTOS Lite Version Description
"PiCTOS" Lite Version

"PiCTOS" is a fun puzzle game, even for people who are not good at solving puzzles!
Be ready to get into the game for hours!


- Rules

The rules are very simple.
Paint a block with 5 colors: red, yellow, green, blue, and purple, then match 5 blocks of the same color to erase them.
That's it!
Paint your favorite color and erase blocks!


- Once you get used to the game control...

The more chain reactions your make, the more points your get.
Trigger chain reactions to aim for a high score.
When the star is blinking, you can use the star paint.
The star paint allows you to paint all the blocks that are same color as the selected color in a new color. So it's a chance to erase blocks in bulk!


- About modes

Story mode
Play the game along with the story of little Pickle the painter.
Pickle paints various paintings on each stage.
If you can clear all the stages, you may get some more fun!

Challenge mode
This is a score attack mode where you have to concentrate on erasing blocks.
Register your high score on the rankings and compete against other players in the world!

Extra mode
This mode is for people who can't get enough of the challenge mode.
Keep playing until the time is up.
You can also play the score attack and register your score in the rankings in this mode.

Puzzle mode
Erase blocks following to the given conditions.
Colors and the number of times that you can use are limited.
Use your brain and solve the puzzles carefully.

Ranking
Compete with other players and compare scores.

-Tips to get a high score

Watch out when the level is going up if you are aiming the high score.
The level won't go up when the chain reaction is happening while the LAST field shows 0.
This means you can erase more blocks and get more points.
When the level goes up, the remaining time will be added to the score as a bonus.
It is important to leave the time limit as high as possible when going to the next level.
Painting with the same color will drop down your score when erasing blocks. Change the color from time to time to keep your score up.
PiCTOS Lite Version 1.5 Update
More Information
Language:

English

Japanese

More