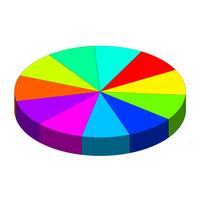 Pie Chart 3D
$1.99
Screenshots for iPhone
More Screenshots for iPad
Pie Chart 3D Description
Pie Chart 3D Creator allows you to create pie chart wherever you are. Available for iPad and iPhone.
Just few taps and your pie chart is ready. You can save it for later or email immediately.

On iPad you can rotate it to landscape mode and present directly to your audience.

In version 1.0 you can:
- add new slices (up to 12),
- move slices on a chart in slice settings,
- change slice size,
- rotate whole chart, just swipe your finger next to chart border,
- skew chart, just swipe up and down in the center,
- scale chart, use two fingers, like with pictures,
- save for later, in chart settings, chart is saved with date and chart name, (up to 15 saved charts),
- load saved charts, you will be warned that your current chart will be replaced,
- delete unneeded charts (just tap edit button on load list or swipe finger to right hand side),
- reset chart values to default 5 slices,
- email image with chart to any recipients email.

Version 2.0 supports:
- more charts can be saved, more slices handled,
- saving to camera roll,
- setting title font and position,
- setting labels fonts and positions,
- custom colors for slices,
- background color change.

Chart uses two nice classes which I created and are available on my website:
- pie chart 3d class for drawing pie charts, with protocol returning clicked slice,
- color picker class allowing quick color selection from the list.
Pie Chart 3D 2.0 Update
Added requested features:
- you can save images to camera roll - most required feature,
- you can define colors using RGB and HSV,
- chart, labels, title can be moved on the screen with one tap,
- title font face, size and color can be changed,
- colors can be selected from 3 predefined palettes plus one customisable,
- improved handling for decimal numbers,
- bug fixing.
More