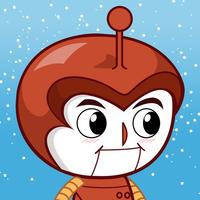 Pieces: Endless Runner Robot
Free Get
Screenshots for iPhone
More Screenshots for iPad
Pieces: Endless Runner Robot Description
Run, jump and DIVIDE into Pieces with Copper, the smartest robot of all time!

Copper is a small and friendly robot that has been built with the ability to "divide" himself into pieces. A skill he will use to evade his enemies and get more nuts. With Copper you will tour the 9 scenarios in different cities of the world like: Tokyo, Hawaii and Egypt.

CHARACTERISTICS:

- Copper can be separated into 3 pieces to evade obstacles and enemies.
- You can customize the look of Copper with the parts of the costumes available.
- The main game has an infinite mode in which the player will have to run the greatest number of meters, going through different scenarios, and go picking up all the nuts he can to then change them for costumes.
- You can choose from over 30 costumes! Play with Cleopatra, the Pirate, the Mime and even the Astronaut!
- You can enter the game of the claw to choose the disguise that you like, but you must have good reflexes ;)
- If some crab or evil shark ends with your life, you can have it back by watching a short video; You can do the same if you need more golden nuts.
- If you want to win more golden nuts or disguises you can share the game or follow us on Facebook and Twitter.
- Also if you want to unlock more scenarios and you do not have enough golden nuts you can share the game on Facebook or Twitter.

FUNCTIONS:

- Tap to jump
- Swipe up to divide into pieces
- Swipe down to get back into one piece

IMPORTANT!

- Pieces is a free game but you can also buy some elements from the game, including 15 of the game's coolest costumes.
- In addition you can make achievements that will win you more golden nuts and thus unlock the costumes and more challenging maps.

Why do you stay there? More than 30 costumes and 9 scenarios await to be discovered! Download Pieces Now and play with the most elusive robot of all!

HELP:

Do you have any comments about the game? Do not hesitate to contact: games@divertap.com
Pieces: Endless Runner Robot 1.0.3 Update
Try to help Copper in this amazing adventure and we will improve the game!
Your opinion is very important to us. Help us to improve the game contacting your feedback through all the networks.
· games@divertap.com
- http://www.twitter.com/divertap
- http://www.facebook.com/divertap
Don't forget to score the game if you like it!
More