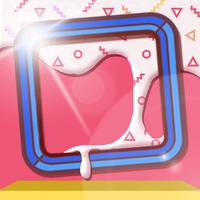 Pimp My Icon – Cool Skins
Free Get
Pimp My Icon – Cool Skins Description
*** Create your own wallpaper with ease! ***

** Have you been looking for a way to customize your phone? Do you need fun and lovely wallpapers? Now you can make them on your own just the way you want! Tons of high quality photos, numerous shelf designs, gorgeous icon frames – you can find all this and more in our brand new wallpaper editor app.

** Use your creativity and imagination to combine various elements and design a unique wallpaper for your phone! It will make your phone one of a kind, for sure! So, do not waste your time anymore – download Pimp My Icon – Cool Skins now and let the magic begin!

*** Features ***

* Select your favorite background photo!
* Choose the shelf you like the most!
* Match the prettiest frame with your icons!
* Add the cutest decorations!
* Arrange all elements the way you like!
* Use your own photos as wallpaper backgrounds!
* Save your new fabulous wallpaper in your phone gallery!

*** Have the most beautiful background in the whole world! ***

** If you are tired of your old and boring wallpaper backgrounds, our Pimp My Icon – Cool Skins is the perfect app for you! It gives you a vast collection of wonderful background photos which you can use and customize with ease. Make your homescreen a beautiful place and enjoy it every time you use your phone!

** Besides having tons of high quality background photos to choose from, you can use pictures from your own gallery as your wallpaper. So, there are basically endless possibilities for creating an interesting and fun phone background. All you have to do is select your favorite photos and enjoy!

*** Decorate your wallpaper with style! ***

** If you want to arrange all your icons in perfect order and have them placed on cute shelves, you are at the right place! You can decide whether you want to use a 2D or a 3D shelf and select the one you like the most. Match the shelf design with your wallpaper photo and create totally unique background designs! Also, Pimp My Icon – Cool Skins offers you cute decorations like various stickers and emoticons to make your wallpaper even more interesting!

** You have the fantastic opportunity to put all your icons in amazing frames! Many frame colors, patterns and designs will for sure enrich your homescreen wallpaper. You just have to select the ones you like the most! Of course, you can always delete an element which does not match your wallpaper background design and replace it with a more fitting one. So, download our new free app and use your creativity to make fantastic phone wallpapers!

*** One of the best wallpaper makers is one tap away! ***

** Don't miss your chance to be unique among your friends and personalize your phone to the fullest! If you want to make your phone screen beautiful, our new wallpaper app is the best choice you can make! With these outstanding background images and colorful wallpapers, your phone background will simply blossom. Changing your desktop background has never been easier than with our Pimp My Icon – Cool Skins!

** Our stylish phone wallpaper themes will simply take your breath away! Have endless fun with creating wonderful wallpaper backgrounds which will decorate your phone like no wallpaper has ever before. Match background photos, shelves, icon frames and stickers to make your own masterpiece! Download Pimp My Icon – Cool Skins now and start creating art!

* The app is free but contains certain InApp packages that can be purchased for real money.
Pimp My Icon – Cool Skins 1.1.1 Update
* App icons updated
* Minor enhancements
* Customize your phone screen with the help of this fantastic app and don't forget to share your thoughts with us!
More