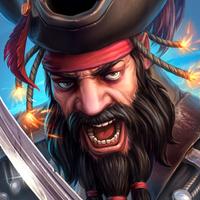 Pirate Tales
Free Get
Screenshots for iPhone
More Screenshots for iPad
Pirate Tales Description
It is a PIRATE REVOLUTION in the genre! Pirate Tales are about to board your device with some brand new action RPG experience. Become a pirate captain, the terror of the seas, and be known as the most fearsome pirate alive!

EASY TO PLAY, HARD TO MASTER

Thrilling graphics, spectacular soundtrack, dynamic battles with QTE and lots of ways to define the outcome of the battle. You have never seen a game like this before!

PUT TOGETHER A CREW

Dreaming of being the true captain? Here's your chance! Gather different well-known characters, including Davy Jones, Francis Drake, Blackbeard, Montezuma, Columbus, and many others – each with their unique abilities, stats, and factions. Upgrade your heroes to become more powerful and conquer the seas!

DISCOVER THE WORLD

Explore many dangerous locations full of adventures. Complete exciting storylines and get worthy rewards!

PURSUE THE FLYING DUTCHMAN

Have you heard about the legendary ghost ship that can never make port and is doomed to sail the oceans forever? Would you have it as your sail? Try and prove that you are a true pirate captain!

CHALLENGE OTHER CAPTAINS

Take part in different exciting PvP tournaments and show all your opponents who be the best pirate upon the high seas! Conquer the marine domain, protect your lands, and expand your influence! Take your rightful place among the famous captains of all times.

SUBSCRIBE AND GET RICHES. AND A RANK!

You can buy a subscription and get 300 gold coins a day while it's active. Subscription costs 19.99 USD per month.

You can also acquire one of the following Ranks:

The Admiral Rank allows you to "hire" an in-game assistant - the First Mate, as well as unlocks Rank Avatars, access to extra Events and 8 free stamina recoveries a day for your Heroes throughout the term of subscription.
Subscription costs 9.99 USD per week.

The Vice Admiral Rank allows you to "hire" an in-game assistant - the First Mate, as well as unlocks Rank Avatars, access to extra Events and 3 free stamina recoveries a day for your Heroes throughout the term of subscription.
Subscription costs 4.99 USD per week.

The Captain Rank allows you to "hire" an in-game assistant - the First Mate, as well as unlocks a Rank Avatar throughout the term of subscription.
Subscription costs 3.99 USD per week.

You can switch between Ranks at any time. Only one Rank can be active at any given time.


Once you've confirmed your subscription, your account will be debited appropriately. Your subscription will be renewed automatically in the beginning of each new period, unless you opt out of auto renewal at least 24 hours before the end of the current subscription term. You can switch off the auto renewal at any time in your iTunes account settings.

Prices are in US dollars. Your home region may display prices in different currencies, reflecting the appropriate exchange rate.

_________________________________

Terms of use: https://crazypandagames.com/en/user-agreement/
Privacy policy: https://crazypandagames.com/en/privacy-policy/
Pirate Tales 2.0.32734 Update
This is no ordinary update; this is Pirates 2.0!
What it's about: completely overhauled economics, card Consumption and brand new Heroes! Let's get down to detail, though.
The second trio of Epic Heroes!
- This Portuguese sailor flies the Spanish flag: welcome Empire's Ferdinand Magellan!
- William Kidd has come back from beyond to avenge his own death... and to play for the Damned;
- The great pirate queen Sayyida al Hurra is joining the Mercenaries.
Card Consumption:
- Haven't used certain Heroes in a while? Employ them to upgrade others! Manage your Hero Collection and build it as you see fit!
Balance:
- New levels for all Heroes: now the Epics max out at level 50, the Legendaries at 60, the Rares at 70, the Uncommons at 80, and the Commons at—yeah, you know it—90!
- Hero Chests: more cards and more frequent level-ups! And tournaments involve considerably more Hero Cards, too;
- Power Bonus reconfigured: now the Hero Card bonus increases the number of Cards you're getting from Chests as a percentage, not a fixed amount. The bigger the Chest, the greater the bonus! It also includes a bonus to Stamina recovery speed and access to Elite Adventures.
- 20 Bonus levels: all players' levels have been converted to new ones;
- There are more Adventures with fancier rewards now in general, too;
- We've scraped the Treasure Bonus and bonuses to in-game currencies. First of all, they really were two sides to the same dublon, and second of all, it does make much more sense to include currency bonuses in rewards right away! Which is exactly what we did;
- Silver and Gold rewards will grow as your Collection grows!
Interface:
- Domination Site visuals have been redone rather nicely;
- New animations designed for unlocking Hero Cards from Chests, including some extra transparency to Bonus Cards.
Major thanks to all the players: those who've been sailing with us from the very start and those who have just stepped onboard! You're what keeps us going and making the game better with each update.
More
More Information
Language:

Chinese

English

French

German

Italian

Japanese

Korean

Portuguese

Russian

Spanish

Turkish

More