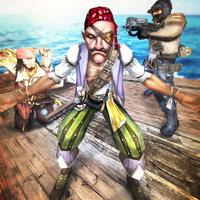 Pirate vs Navy Stealth Mission
Not Available
Removed
from the App Store
Pirate vs Navy Stealth Mission Description
Get Ready For the Grand War between you and the most dangerous pirates ever ..Pirates Abduct your Friends and your wife ...you have to go there and save your Friends and wife before its to late...



About Pirates vs US Navy Stealth Mission

This game is specially designed for army lover who want to take a part in army missions. The main objective of this game is to destroy the pirate camps and to maintain the peace of your nation so enjoy this amazing game


One of the greatest action franchise is available on your device so ready to make stealth operation against pirates in deep sea. Enter in US military academy that will lead you to clear the physical and mental training. Step into shoes of US one man army and see how tough is to step up from ordinary to extraordinary. Prepare yourself to battle the war in dead sea against pirates trying to put down the nation with their evil plans like shooting, and plundering. The government asked for help to US Navy to make operation against the pirates in dead deep caribbean. You are elected for this mission and have fully trained in US army training school with sniper shooting, multiple guns handling skills. So what are you waiting for pick up your device and enjoy this action packed game to complete this mission stealth operation against the evil of the caribbean.


Unlike other US army games in store, you get the full opportunity to take command of your vessel, gone are the days of making operation against zombie pirates through army ship. Millions of people of your grand city are in trouble from sea pirates this time you are the last hope for the people of your country don't show mercy and make a perfect plan on way to take revenge of civilians. Due to sea storm your ship has lost with your companions you are the well trained one man army commando so take your way toward creed villa's with your swimming skills and attack on pirates ship camp with your sniper no need to mercy just fire against the criminals of homeland to destroy evil planning of pirates. Kill all one by one and try to capture the pirate god father alive to give punishment of his sin and get reward from government for your successful creed pirate army mission. 3D environment with intuitive controls and awesome graphics will give you real feel of commando action so download this game and enjoy the game for hours of fun.
Pirate vs Navy Stealth Mission 1.0 Update