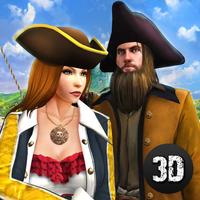 Pirates Fighting: Carribean Corsair War 3D
Free Get
Screenshots for iPhone
More Screenshots for iPad
Pirates Fighting: Carribean Corsair War 3D Description
Fifteen men on a dead man's chest, what's that? That's our new Pirates Fighting: Carribean Corsair War 3D game! Dip into the atmosphere of the medieval pirates battlefield! Become a brutal and cunning pirate with a razor sharp sabre and duel with the other pirates in Pirates Fighting: Carribean Corsair War 3D!
Foretaste the greatest battle! Hear each oceanic wave knocking against the board of your ship! Everybody is waiting for this battle of the most blood-thirsty pirates ever! Choose your favorite kind of pirate – will it be Blackbeard, Pirate Queen or Captain Robert? This choice is up to your preferences! Prove your battling skills and polish them to perfection! Give a dare to the strongest opponent and win this tournament gloriously!
Put on your skull leather armor, embellished with arms, take your sure sword, sabre or knife and be ready for a fight! Explore various interesting island locations to duel with different kinds of enemies and have fun with Pirates Fighting: Carribean Corsair War 3D! Earn points for successfully done battles and buy new powerful weapons and armor decorated with bones, or power-up your own accouterments! Level up your skills and remember: the more power you gain, the more strength your opponent obtains! Be really careful and attentive! Strike exact and mighty blow, deviate from your opponent's attacks and finally finish him!
Experience this unusual feel of being a medieval pirate! Pave your way to a great victory under the black flag of Jolly Roger! Try different combat tactics and achieve a great success of the most powerful pirate! Salty ocean water is waiting for the dead bodies of your rivals!
Pirates Fighting: Carribean Corsair War 3D features:
• Ultimate pirates fighting game
• Great variety of authentic weapons and armors
• Different pirates to choose
• Various battling tactics for more fun
• Amazing 3D graphics
Yo ho ho and the bottle of rum! Plunge into this cruel medieval epoch being a cunning pirate with the powerful weapon! Duel with the opponents, power-up your armor and weapons and win every battle of Pirates Fighting: Carribean Corsair War 3D!
Pirates Fighting: Carribean Corsair War 3D 1.0 Update