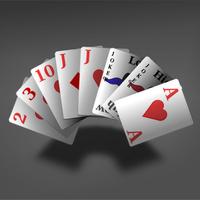 Pitch 10 Point
$1.99
Pitch 10 Point Description
Note: This app is identical to "Pitch", please download "Pitch". This app is still available so users who have previously purchased this app separate to "Pitch" can update to the most recent changes. Version 2.0 combines these two apps.

Pitch 10 Point offers the same function as Pitch so that you can play 4, 5, 6, 7, 10, or 13 point Pitch! Customize player's names, personalities, winning conditions, options to keep low, pass the kitty and many more.

You can now play multiplayer through Game Center included. This allows for 2 to 4 players to play together in any version of Pitch! You can also use the built in voice chat feature to talk amongst your friends!
Pitch 10 Point 2.9 Update
-Added brand new card themes! Light and Dark
-Added ability to change board game wallpaper to plain gray
-Much improved computer bidding and playing for 5 point!
-Multiplayer is now Free! No longer an In-App Purchase
-Added leaderboards and achievements!
---
-Fixed card animation on main screen
More