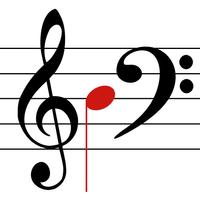 Pitch
Free Get
Pitch Description
Pitch teaches you how to read musical intervals as they appear on a music score. You don't need to learn any music theory, or even the names of the notes.

You can sing, play the piano, or play other musical instruments and Pitch will listen to the notes you make.

Just read, try and learn.

Pitch will test you with a continuous stream of notes. The goal is to get the next one right. When you get it right you score a point. When you get it wrong, Pitch shows you the note you tried in red so you can adjust and try again. If you make too many mistakes - you're back to zero...

Try Pitch today for free.

... and if you want to, get access to the Complete Settings (all the keys, clefs and intervals) with a single in-app purchase.
Pitch 1.1.0 Update
This version brings 3 new features to Pitch:
1) All the commonly used Clefs including Alto and Tenor clefs.
2) Accidentals for each key signature.
3) Transposing of the pitch for concert A (A4) up or down 6 whole tones.
Also several changes to make playing the correct note more satisfying!
More